Art (1900-1945) > Expressionism Erich Heckel - Biography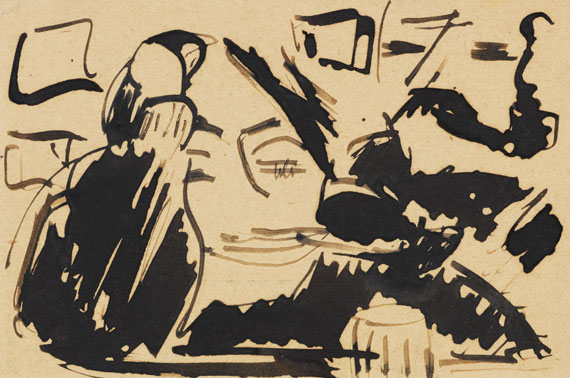 ---
Sitzender mit Pfeife. 1909.
India ink drawing on a postcard to Karl Schmidt-Rottluff.
9.3 x 13.9 cm (3.6 x 5.4 in).
With postage stamp "28.12.1909". Adressed to "Herrn Schmidt-Rottluff, Rottluff b. Chemnitz [..]" and inscribed with the text "Na endlich hier i. Dresden. Ernst sein Buch ist sehr interessant. Ebenso einige seiner neuen Sachen. Bei Max i. Berlin wars sehr fürstlich. Gruß an Gertrud. Oh beinah vergessen. Ich kam gerad hin, als Noldes da waren - uha! Gruss D. Erich." [AR].
• Postcard to Karl Schmidt-Rottluff from the "Brücke" period.
• The artists discovered the postcard as the perfect means of communication at an early point.
• Today many of these objects are owned by museums like the Brücke-Museum Berlin or the Altonaer Museum, Hamburg.

The work is registered in the Erich Heckel Estate, Hemmenhofen on Lake Constance. We are grateful to Mrs Renate Ebner and Mr Hans Geissler for the kind support in cataloging this lot.

PROVENANCE: Karl Schmidt-Rottluff (frm the artist in 1909).
Hermann Gerlinger Collection, Würzburg (with the collector's stamp, Lugt 6032).

EXHIBITION: Buchheim Museum, Bernried (permanent loan from the Hermann Gerlinger Collection, 2017-2022).

LITERATURE: Heinz Spielmann (ed.), Die Maler der Brücke. Sammlung Hermann Gerlinger, Stuttgart 1995, p. 180, SHG no. 205 (with color illu.).
Hermann Gerlinger, Katja Schneider (eds.), Die Maler der Brücke. Inventory catalog Hermann Gerlinger Collection, Halle (Saale) 2005, p. 169, SHG no. 380 (with color illu.).

In good condition. With unobtrusive kinks in the corners.
For information concerning the condition, please view the high resolution image / backside image.