Art (1900-1945) > Figurative Painting (40s-60s ) Franz Radziwill - Biography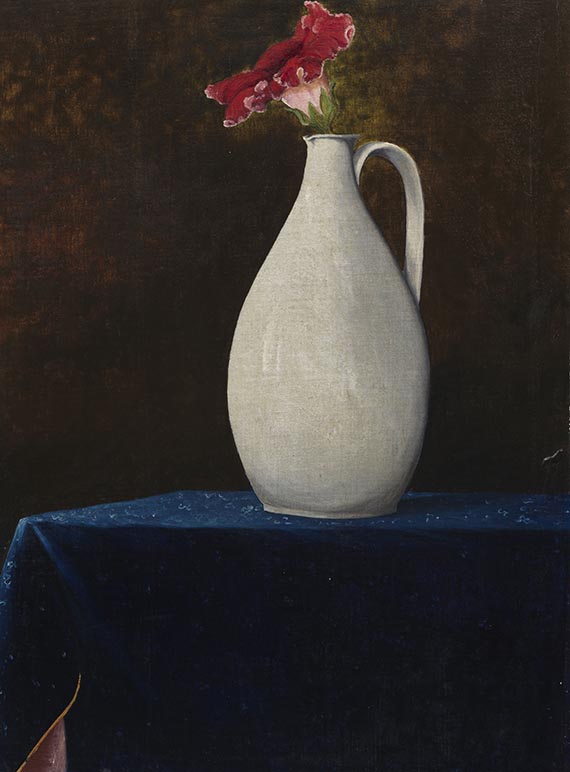 ---
Stilleben mit Gloxinie in weißem Krug. 1940.
Oil on canvas, laminated on panel.
Barely visible signed and dated in the left of the vase. With the artist's address stamp on the reverse, as well as numbered and dated. 39.5 x 29.5 cm (15.5 x 11.6 in).
Listed in the artist's 4th work list as number "278". [KT].
• Especially in his still lifes, Radziwill shows himself to be a great artist of Magical Realism.
• Calm, concentrated composition with a balanced color tone.
• Works by the extraordinary artist are in renowned collections like the Hamburger Kunsthalle, the Nationalgalerie Berlin and the Städtische Galerie im Lenbachhaus, Munich.

PROVENANCE: Private collection.
Galerie Uwe Michael, Bremen.
Private collection Schleswig-Holstein.

EXHIBITION: Franz Radziwill, Neue Gesellschaft für Bildende Kunst, Staatliche Kunsthalle, Berlin, November 22, 1981 - January 3, 1982, cat. no. 110.
Franz Radziwill, Ludolf-Backhuysen-Gesellschaft, Rathaus am Delft, Emden, June 16 - July 28, 1985, no number.
Franz Radziwill. Gemälde, Aquarelle, Zeichnungen, Galerie Uwe Michael, Bremen, Dec. 1988, p. 62 (fig.).
Stillleben - Gestörte Stille, Schloss Jever, Jever, October 1 - 29, 1989, cat. no. 20 (fig.).

LITERATURE: Andrea Firmenich/Rainer W. Schulze, Franz Radziwill 1895 bis 1983. Monographie und Werkverzeichnis, Cologne 1995, p. 391, no. 484 (fig.).


For information concerning the condition, please view the high resolution image / backside image.