Art (1900-1945) > Figurative Painting (1900-30s ) George Minne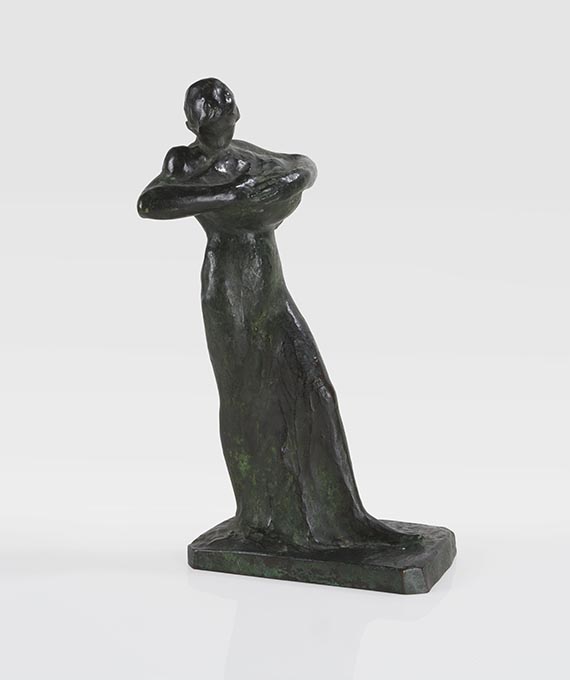 ---
Mère et enfant V. 1928.
Bronze with green-black patina.
Base with the artist's name. Height: 38.5 cm (15.1 in).

• The Belgian sculptor George Minne was one of the most important representatives of Symbolist sculpture.
• In the 8th exhibition of the Secession in Vienna in 1901, a separate room designed by Koloman Moser was dedicated to George Minne.
• From the William Landmann Collection (1891-1987), Canada.

PROVENANCE: Das Kunsthaus Herbert Tannenbaum, Mannheim.
William (Dr. Wilhelm) Landmann Collection (1891-1987), Mannheim / Amsterdam / Toronto (acquired from the above in the 1920s).
Julie Landmann, Toronto (inherited from the above in 1987).
Martin Landmann Collection (1923-2021), Vancouver, Kanada (in 2001 from the above's estate).
Ever since family-owned.

EXHIBITION: European sculpture and painting from the collection of William Landmann, Toronto, Art Gallery of Ontario, Toronto, October 18 - November 17, 1946.

LITERATURE: Exhibition list from 1946, archive of Art Gallery of Ontario, Toronto.
Inventory (file card) of Landmann Collection, privately owned.


For information concerning the condition, please view the high resolution image / backside image.