Art (1945-contemporary) > Abstract Art Post-War Imi Knoebel - Biography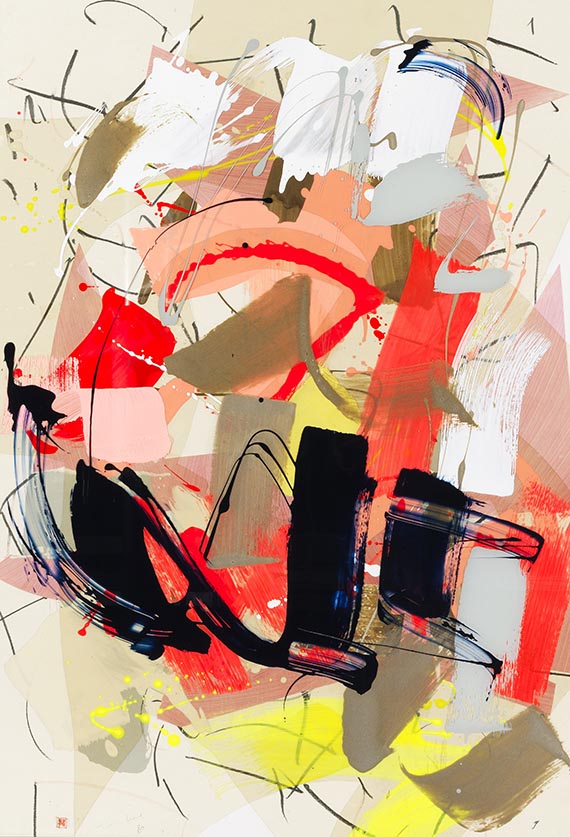 ---
Ohne Titel (Drachenzeichnung). 1980.
Mixed media. Acrylic, lacquer, charcoal and foils on board, in object frame.
Lower left signed and dated and once more signed in the artist stamp. Lower right with the Schoellershammer blindstamp. Another signed artist stamp on the reverse. 98 x 68 cm (38.5 x 26.7 in).
[KT].
• Special spatial presence owing to the three-dimensional painting body.
• The important representative of Minimal Art participated three times in the documenta (1972, 1977, 1982, 1987).
• Imi Knoebel's works are in numerous important collections, such as the Hamburger Bahnhof, Berlin, the K20/K21 - Kunstsammlung Nordrhein Westfalen and the Albertina, Vienna.

PROVENANCE: Private collection Baden-Württemberg (acquired inn 2012).

LITERATURE: Auction house Lempertz, Cologne, auction on December 1, 2012, lot 630 (fig.).


For information concerning the condition, please view the high resolution image / backside image.