Art (1900-1945) > CoBrA Emil Nolde - Biography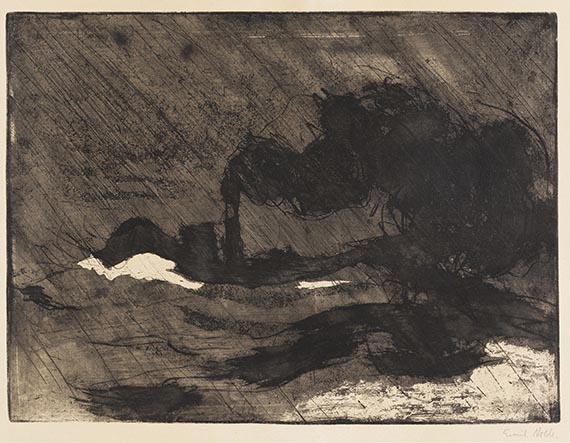 ---
Dampfer (groß, dunkel). 1910.
Etching with aquatint and plate tone.
Signed. Titled "Dampfer (gr. dkl.)" in the lower margin. One of at least 30 copies. On Ingres laid paper by Van Gelder Zonen (with the watermark). 30.5 x 40.7 cm (12 x 16 in). Sheet: 44,5 x 57,6 cm (17,5 x 22,6 in).
Printed by Genthe, Hamburg and Carl Sabo, Berlin. [KT].
• In February 1910, Nolde discovered the port of Hamburg as an expressive motif.
• Hamburg becomes the city of artistic breakthrough for Nolde.
• Nolde uses the spectrum of graphic expressiveness in a masterful and complex way.

PROVENANCE: Private collection Berlin.

LITERATURE: Gustav Schiefler/Christel Mosel/Martin Urban, Emil Nolde. Das graphische Werk, Bd. I: Die Radierungen, Köln 1995, WVZ-Nr. 135 IV (von IV).


For information concerning the condition, please view the high resolution image / backside image.