Art (1900-1945) > Expressionism Erich Heckel - Biography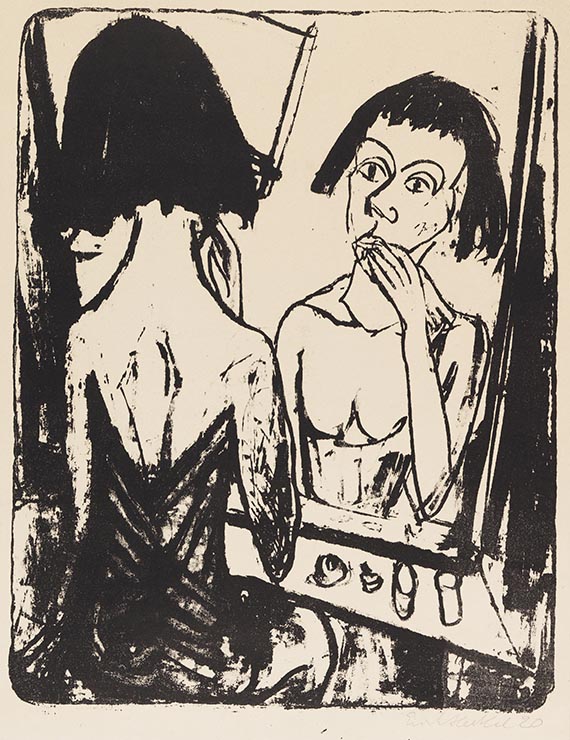 ---
Vorm Spiegel (Asta Nielsen). 1920.
Lithograph.
Ebner/Gabelmann 765 L I (of II). Dube L 265. Signed, dated and titled. From an edition of to date 22 known copies. On off-white paper. 49.7 x 38.4 cm (19.5 x 15.1 in). Sheet: 65 x 49,5 cm (25,1 x 19,5 in).

• The work shows the Danish actress Asta Nielsen (1881-1972), whom Heckel admired, in a scene from an unknown film.
• The size and the reflection in the mirror make this a fascinating sheet.
• Other copies are in the Folkwang Museum, Essen, and the Kunstsammlungen Chemnitz.

PROVENANCE: Kunsthaus Fischinger, Stuttgart (with a label on the reverse)
Private collection Baden-Württemberg (acquired from the above in 1963, evers ince family-owned).

In good condition. Center of bottom edge with a small paper loss. Edges with very few small splits, mostly from mounting. Evenly discolored and sunned. Broad margin with faint handling marks and rubbings. With mounting remains on the reverse of the upper corners, slightly showing through to recto.
For information concerning the condition, please view the high resolution image / backside image.