Art (1945-contemporary) > Conceptual art / Minimalism Lucio Fontana - Biography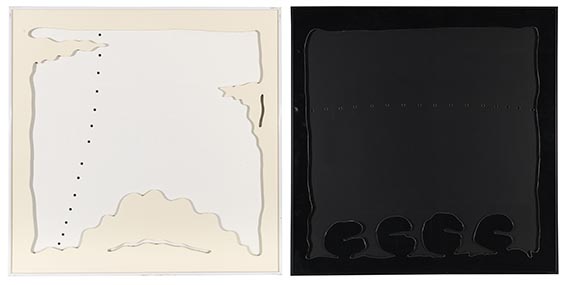 ---
Concetto Spaziale - Teatrino (nero & bianco). 1968.
Two Multiples. Each relief of four die-cut cardboard sheets.
Only "nero" is signed and numbered on the reverse. Each from an edition of 75 copies, apart from 20 Roman-numbered copies. Each 70 x 70 cm (27.5 x 27.5 in).
From a series of together six multiples (Ruhé/Rigo M7-12). Published by Edition Plus, Baden-Baden 1968. [AR].
• From a series of six "Teatrini", in which the artist combines his famous "Buchi" (holes) with figurative elements.
• Among Lucio Fontana's editions, the red, black and white "Teatrini" are the most sought-after ones on the international auction market (source: artprice.com).
• The artist participated in documenta II (1959) and documenta 4 (1968) in Kassel.

LITERATURE: Harry Ruhé/Camillo Rigo, Lucio Fontana. Graphics, multiples and more ., Amsterdam 2006, no. M-9 (nero) and M-10 (bianco), S.

"My discovery is the hole, period; having made this discovery, I will be able to leave this world in peace ."
Lucio Fontana, 1960s, quoted from: Barbara Hess, Lucio Fontana 1899-1968, Cologne 2006, p. 7.