Art (1900-1945) > Expressionism Paul Kleinschmidt - Biography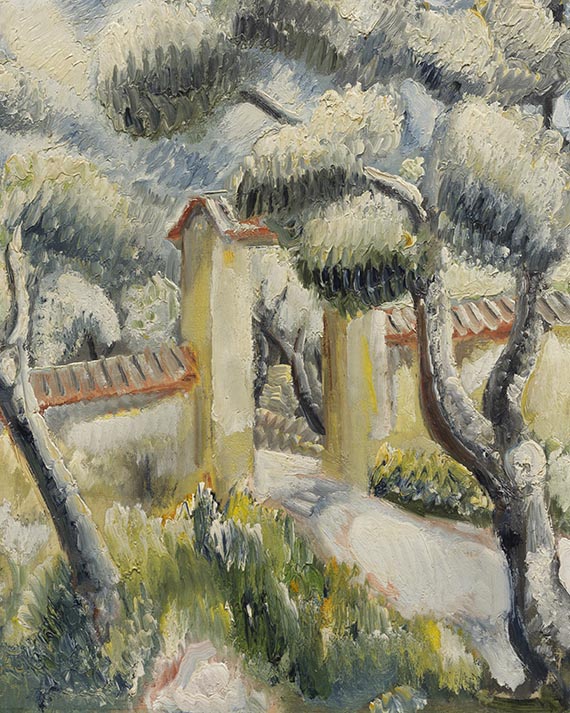 ---
Landschaft in Südfrankreich (Parkausgang). 1939.
Oil on canvas.
Monogrammed and dated in the moist paint in lower left. With several numbered labels and inscriptions on the reverse. 61 x 50.5 cm (24 x 19.8 in).

• Kleinschmidt occupies a distinctive position between Expressionism, Realism and New Objectivity.
• In 1938, Kleinschmidt emigrated to the south of France, where the bright park view was created in the summer of the following year.
• Significant provenance: for a long time in the collection of Erich Cohn, with whom Kleinschmidt came into contact in 1927 and who would be the artist's most important patron.

PROVENANCE: Erich Cohn Collection, New York.
Richard A. Cohn, New York (obtained from the above).
Private collection Lower Saxony.

LITERATURE: Barbara Lipps-Kant, Paul Kleinschmidt 1883-1949, vol. 2: Chronologischer Werkkatalog, (diss.) Tübingen 1977, p. 538, no. 344.
Auktionshaus Lempertz, Cologne, Moderne Kunst - Modern Art, auction on June 4, 1998, lot 850: "Parkausgang" (with illu. and color plate 61).


For information concerning the condition, please view the high resolution image / backside image.