Art (1900-1945) > Expressionism Hermann Max Pechstein - Biography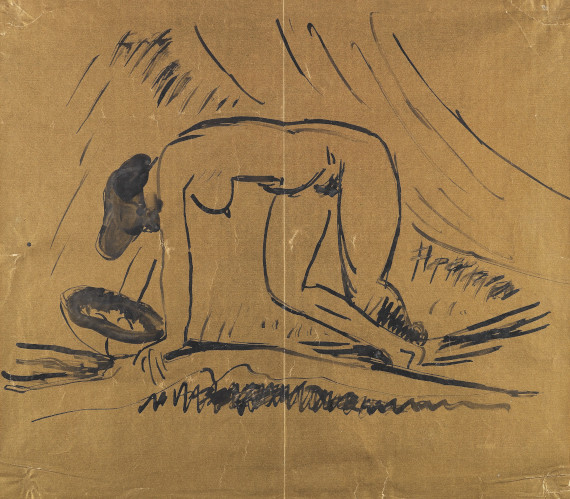 ---
Beugender Akt mit Schale. 1910.
Brush and India ink drawing.
Monogrammed and dated in lower right of the backing board. On delicate gold paper, mounted on yellowish backing board by the artist. 32 x 36.3 cm (12.5 x 14.2 in), size of sheet. Backing board: 36,5 x 43,3 cm (14,4 x 17,1 in).
[CH].
• From the "Brücke" heyday.
• From a small series of drawings on gold paper.
• The shimmering paper makes for a special material aesthetic.
• Formerly owned by the famous sculptor Richard Scheibe (1879-1964) and family-owned since.

The work is documented in the archive of the Max Pechstein Urheberrechtsgemeinschaft, Hamburg/ Berlin, dokumentiert.

PROVENANCE: Richard Scheibe (1879-1964), Berlin (presumably acquired directly fom the artist).
Private collection (inherited from the above).
Family-owned since.


For information concerning the condition, please view the high resolution image / backside image.