Art (1900-1945) > Expressionism Hermann Max Pechstein - Biography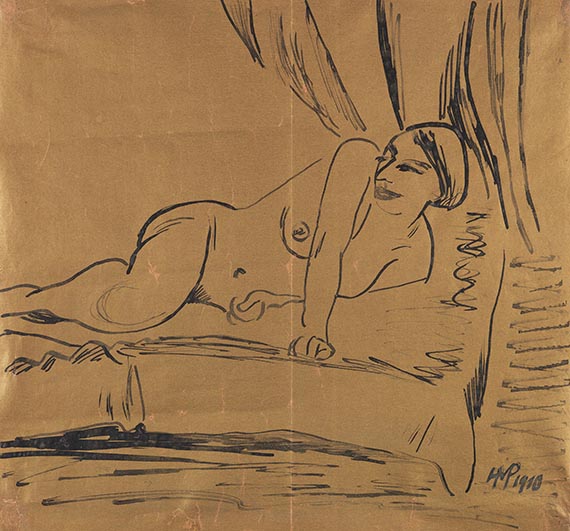 ---
Liegender weiblicher Akt. 1910.
Pen and India ink drawing.
Lower right monogrammed and dated. On delicate gold paper. 32 x 35.1 cm (12.5 x 13.8 in), size of sheet. [CH].

• From the "Brücke" heyday.
• The "Brücke" artists conceived an entirely new and groundbreaking interpretation of the female nude as an independent pictorial element.
• Just like Otto Mueller, Pechstein also left Dresden for the art metropolis Berlin and, after he had been rejected by the Berlin Secession, became a founding member of the expressionist exhibition cooperative "Neue Secession".
• This is one of just a few drawings on gold paper.
• Formerly in possession of the famous sculptor Richard Scheibe (1879-1964) and family-owned ever since.

The work is documented in the archive of the Max Pechstein Urheberrechtsgemeinschaft, Hamburg/ Berlin.

PROVENANCE: Richard Scheibe (1879-1964), Berlin.
Private collection (inherited from the above).
Ever since family-owned.

LITERATURE: Stuttgarter Kunstkabinett, 16th auction, November 27, 1952, lot no. 1965.


For information concerning the condition, please view the high resolution image / backside image.