Art (1900-1945) > Expressionism Lyonel Feininger - Biography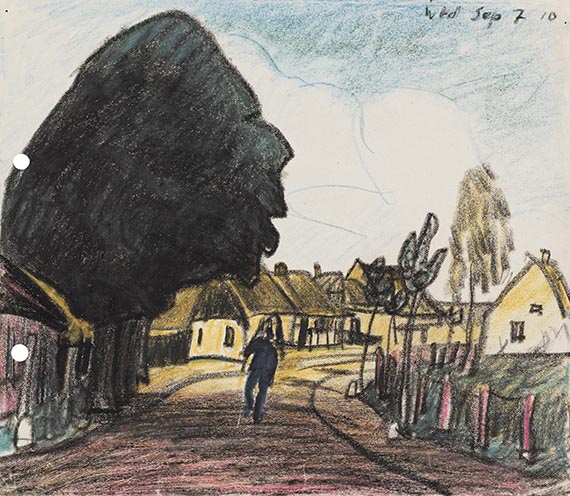 ---
Street in Neppermin. 1910.
Colored pencil drawing with grease crayon.
Upper right dated "Wed Sep 7 10". On paper (left margin punched). 21 x 24 cm (8.2 x 9.4 in), the full sheet.

Achim Moeller, director of the Lyonel Feininger Project LLC, New York – Berlin, has confirmed this work's authenticity. It is registered in the archive of the Lyonel Feininger Project under the number 1870-09-05-23. Accompanied by the certificate.

PROVENANCE: Alois Jakob Schardt, Halle, Berlin & Los Angeles (until 1955)
Private collection (inherited from the above).
Private collection Achim Moeller (acquired from the above in 1985).
Private collection Italy (Grisebach 2004).

EXHIBITION: Lyonel Feininger: Erlebnis und Vision. Die Reisen an die Ostsee 1892- 1935, Museum Ostdeutsche Galerie, Regensburg / Kunsthalle Bremen, June 28 - October 27, 1992, cat. no. 59, fig.
Lyonel Feininger, Opere dalle collezioni private italiane, MArt Museo d'Arte Moderna, Rovereto 2007, cat. 4.10, fig. 148.

LITERATURE: Hans Schulz- Vanselow, Lyonel Feininger und Pommern. Eine Materialsammlung, Kiel 1999, p. 46. (notes).
Villa Grisebach, Kunst des 19. und 20. Jahrhunderts, Berlin, June 12, 2004, lot 178.
Martin Bartels, Papileo auf Usedom. Eine Feininger- Radtour, 2009, pp. 71 f., fig. 18.

In good condition. Sheet punched in left margin. Margins partly creased and with small isolated losses and a tiny split in left, with a slight kink in lower right corner.
For information concerning the condition, please view the high resolution image / backside image.