Art (1945-contemporary) > Abstract Art Post-War Jorinde Voigt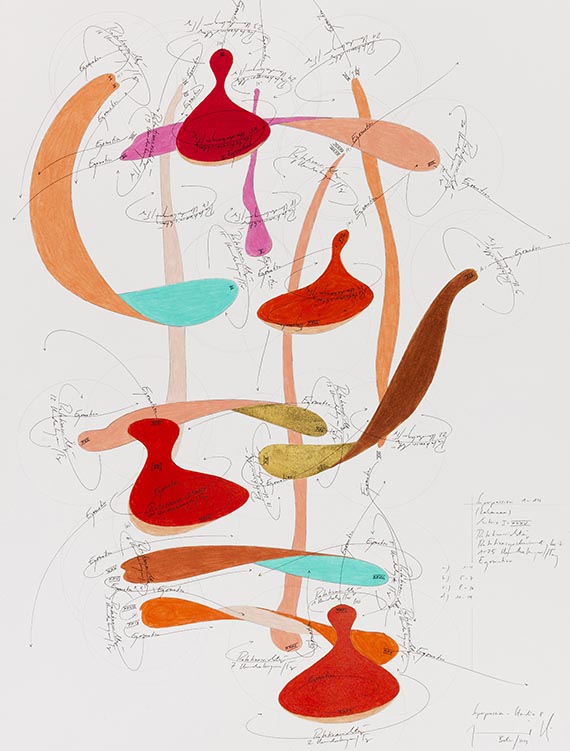 ---
Superpassion Studie 8. 2013.
Mixed media. Ink, sheet gold, pencil, oil pastel.
WV 2013-205. Signed, dated, titled and inscribed "Berlin" in lower right. On light board. 61 x 46 cm (24 x 18.1 in), size of sheet.
Unique work from the series "Superpassion 1-14 | (Luhmann)". [KT].
• With her unmistakable artistic language, Voigt is one of the most important contemporary German artists
• In her interdisciplinary works, she reflects on music, philosophy, sociology and physics.
• Her works are fascinating combinations of visual and intellectual spaces and activate the most diverse aesthetic levels.
• In the series "Superpassion", Voigt examines structures and codes of human behavior and universal basic principles.
• The series is based on the publication by the sociologist Niklas Luhmann: Liebe als Passion. Zu Codierung von Intimität (1982)
• Voigt creates a parallel analysis of Luhmann's theory of communication in art.
• Works by the artist are in the Museum of Modern Art, New York, in the Art Institute, Chicago, in the Center Pompidou, Paris, and in the Pinakothek der Moderne, Munich.

PROVENANCE: Galerie Klüser, Munich.
Private collection Bavaria (acquired from the above in 2014).

EXHIBITION: Jorinde Voigt - The day before yesterday - The day after tomorrow, November 8, 2013 - February 22, 2014, Galerie Klüser, Munich.

LITERATURE: Codification of intimacy: works on Niklas Luhmann, Liebe als Passion, David Nolan Gallery, New York, May 1 - June 21, 2014, no. 121 (with illu.).


For information concerning the condition, please view the high resolution image / backside image.