Art (1945-contemporary) > Informal Emil Schumacher - Biography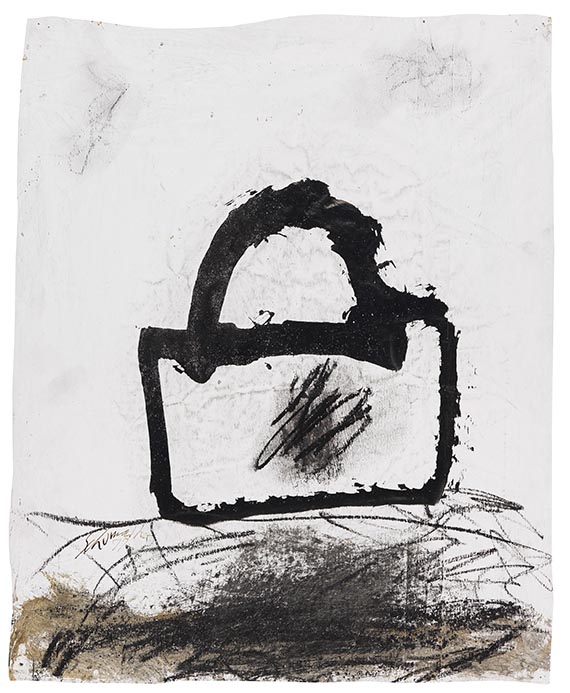 ---
Djerba 7/1977. 1977.
Mixed media. India ink, grease crayon, sepia.
Signed and dated in lower left. On wove paper. 53 x 42.5 cm (20.8 x 16.7 in), the full sheet. [AW].


• Powerful work by one of the most important representatives of German Informalism.
• The sheet was made during a stay on the Tunisian island of Djerba.
• The artist participated in documenta II, III and VI in Kassel in 1959, 1964 and 1977 .
• Emil Schumacher's works are part of the collections of, among others, the Kunsthalle Hamburg, the Staatsgalerie Stuttgart and the Vatican Museums, Rome.

The work is listed in Dr. Ulrich Schumacher's register at the Emil Schumacher Foundation in Hagen with the inventory number 0/3.166. We are grateful to Mr Rouven Lotz, director of the Emil Schumacher Museum, Hagen, for his kind expert advice.

PROVENANCE: Swiss private collection (acquired from the artist).

LITERATURE: Jür0en Wißmann, Zur Bildform Emil Schumachers, in: Fritz-Winter-Haus (ed.), Emil Schumacher, Ahlen 1979, p. 11 (with illu.).
Werner Schmalenbach, Emil Schumacher, Cologne 1981, p. 115 (with illu.)
Ernst-Gehrhard Güse, Emil Schumacher. Djerba, Stuttgart 1983, p. 43 (with illu.).

In good condition. Edges slightly irregular, bottom margin with a small split (8 mm). Each corner with two small pinholes, presumably from a former mounting.
For information concerning the condition, please view the high resolution image / backside image.