Art (1945-contemporary) > Figurative Painting (70s - contemporary) Adolf Luther - Biography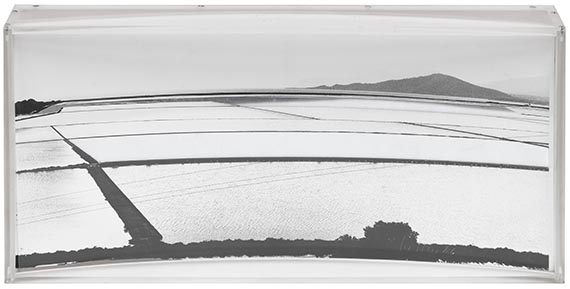 ---
Gemeinschaftsarbeit mit Robert Häusser (1924-2013). Las Salinas. 1974/1986.
Photography, collaged on a mirror plate, behind a concave plexiglass pane, in object box.
Signed and dated by Luther. Signed by both artists, dated "86", numbered and titled "Las Salinas" on the reverse of the object box. From an edition of 25 copies. 24.7 x 49.2 x 6.7 cm (9.7 x 19.3 x 2.6 in).
[AM].

• Light-filled account of the Salina landscape on Ibiza.
• Conceptually deep joint work with the world-famous photographer Robert Häusser.
• In 1995, Häusser was the first German photographer to win the "Hasselblad Award.

PROVENANCE: Collection Prof. Robert Häusser, Mannheim.
Private collection Southern Germany (inherited from the above).


For information concerning the condition, please view the high resolution image / backside image.