Art (1945-contemporary) > Informal Emilio Vedova - Biography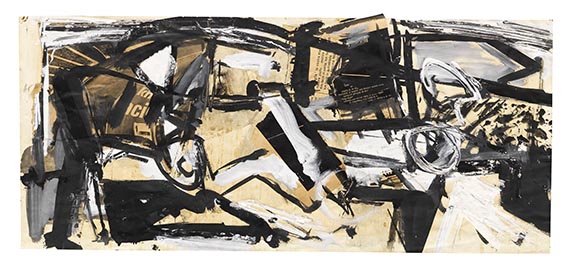 ---
Puglia 1965 (da Matera al Salento: Dure impronte di lotte antiche, sopraffazioni) n. 2. 1966.
Mixed media with collaged newsprint, originally mounted on panel and on fiberboard.
Lower right signed and dated. Once more signed and inscribed with a dedication and more information on the reverse. Sheet: 32 x 72.5 cm (12.5 x 28.5 in). Fiberboard: 41 x 81 cm (16,1 x 31,8 in).
[AR].
• Emilio Vedova's gestural-informal works are immediate and dynamic, expressive and abstract.
• He often integrates newsprint into his works, creating reference points in his powerful meshwork of lines and colors.
• From the sought-after time of the 1960s.
• Obtained as gift from the artist, ever since family-owned.
• Emilio Vedova is a main representative of expressive-abstract painting in Italy.

Accompanied by an archive extract from the Fondazione Emilio e Annabiance Vedova, Venice. This work is registered in the archive under the number FV51.

PROVENANCE: Private collection Italy (gifted from the artist).
Private collection Italy (inherited from the above).


For information concerning the condition, please view the high resolution image / backside image.