Art (1900-1945) > Figurative Painting (40s-60s ) Ida Kerkovius - Biography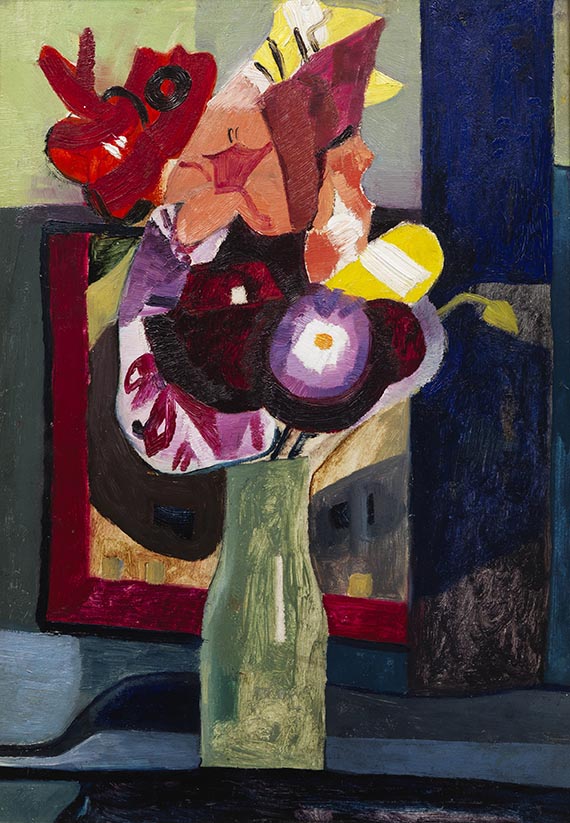 ---
Schiffe in Norwegen / Blumenstillleben vor einem Gemälde. 1930s.
Oil on cardboard, painted on both sides.
Lower right monogrammed. 41 x 59 cm (16.1 x 23.2 in).
In the 1930s, Ida Kerkovius went to Norway on several occasions. A pastel with a similar motif from 1932 titled "Schiffe in Norwegen" is in possession of the Kunstsammlungen Chemnitz.
Firmly mounted in the frame. [AW].
• Strong colors meet a constructive pictorial language.
• Kerkovius studied under Adolf Hoelzel at the Academy in Stuttgart, as well as under Itten, Schlemmer and Kandinsky at the Weimar Bauhaus.
• In 2020, the Staatsgalerie Stuttgart showed the solo show "Die ganze Welt ist Farbe".

We are grateful to Mrs Katharina Hadding, Essenheim, and Herrn Uwe Jourdan, Stuttgart, for the kind support in cataloging this lot. The work is listed in the forthcoming catalog raisonné, compiled by Uwe Jourdan, Stuttgart, under the number 3365.

PROVENANCE: Galerie Schaller, Stuttgart.
Private collection Baden-Württemberg.
Private collection Baden-Württemberg.

In good condition in fine colors. With tiny retouched and soiled spots on both sides. One side (ships) with spots of craquelure in the center and in lower right margin, with minor color loss in left. Still life with spots of slight craquelure in upper right and with a tiny split in layer of paint in center.
The condition report was compiled in daylight with the help of an ultraviolet light and to the best of knowledge.
For information concerning the condition, please view the high resolution image / backside image.