Art (1900-1945) > Figurative Painting (1900-30s ) Hermann Stenner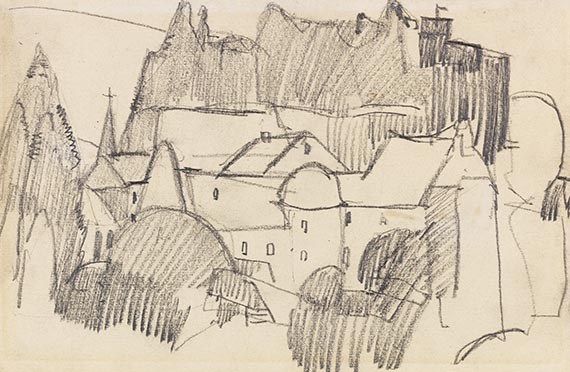 ---
Burg Monschau. 1912.
Pencil drawing.
Hülsewig-Johnen/Peterlein 1039 and 1040. With the estate stamp and the numbers "12/110-112" and "123" on the reverse. On off-white wove paper. 15.5 x 23.7 cm (6.1 x 9.3 in), the full sheet. [CH].

• Painted on both sides: with two figure compositions on the reverse.
• The same year Stenner also made the very similar painting "Montjoie (Monschau I)".
• Owing to Stenner's early death in WWI at the age of 23, he left behind only a small but high-quality oeuvre.

PROVENANCE: Artist's estate.
Erich Stenner Collection Bielefeld.
Private collection Bielefeld.
Private collection Northern Germany.

LITERATURE: Hans Georg Gmelin, Hermann Stenner 1891-1914, Munich 1975, cat. no. 1021 and Z 1022.
Jutta Hülsewig-Johnen and Nicole Peterlein, Hermann Stenner. Aquarelle und Zeichnungen, Munich/Berlin 2010, cat. no. 1039 and 1040 (fig., p. 270).

In very good condition. Margins with slight sunning. Left edge slightly irregular. Small isolated brownish spots and small stains that do not impair the overall impression. With old mounting remains on the reverse.
For information concerning the condition, please view the high resolution image / backside image.