Art (1900-1945) > Expressionism Ernst Barlach - Biography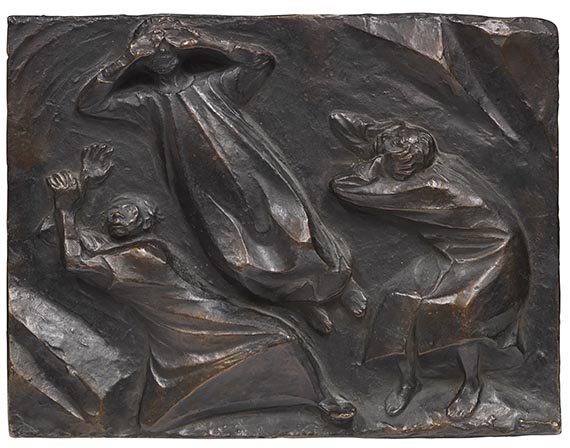 ---
Der Übergang. 1917/ nach 1954.
Bronzerelief.
Schult 194 a. Probst 258. With the signature, the foundry mark "NOACK" "BERLIN" and the embossed number "6" on the side. 32 x 42.5 x 7 cm (12.5 x 16.7 x 2.7 in).
Cast by H.Noack, Berlin (with the foundry mark). Posthumous cast. [EH].
• Family-owned for more than 30 years.
• Prime example of Ernst Barlach's expressive. style
• A few gestures suffice to convey deep emotions and great spirituality.
• Other copies are at the Schleswig HolsteinscheS Landesmuseum Schloss Gottorf, the Kunsthalle Bremen and the Staatliche Museum Schwerin.

With a confirmation issued by the estate administrator Nikolaus Barlach, Ratzeburg, from November 24, 1981 (in copy).

PROVENANCE: Frankfurter Kunstkabinett Hanna Bekker vom Rath GmbH.
Private collection Southern Germany (acquired from the above in 1981, ever since family-owned).

In good condition.
For information concerning the condition, please view the high resolution image / backside image.