Art (1945-contemporary) > Figurative Painting (70s - contemporary) Sandro Chia - Biography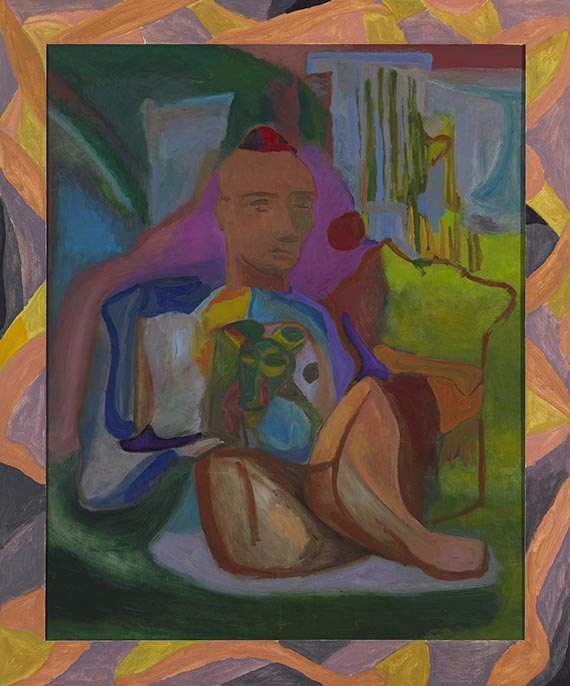 ---
Sitting man with funny dog and hat. 1989.
Oil on canvas in the artist's original painted frame.
Signed and dated on the reverse. Dimensions incl. frame: 174.5 x 144 cm (68.7 x 56.6 in).
[AR].
•Sandro Chia's expressive figurative color worlds from the late 1970s are a contra-position to Concept and Minimal Art.
• His participation in documenta 7, 1982, and in the Venice Biennale in 1988, consolidated his international popularity from an early point on.
• His works from the 1980s are among his most sought-after works on the international auction market (sourcee: artprice.com).
• They show recurring motifs like dogs, in many case presumably a refernce to his own bull terriers.
• The year it was made, the work featured the traveling exhibition "Neunzig Dornen im Wind" with stops in in Europe and Mexico, as well as in the grand solo show at the Nationalgalerie, Berlin in 1992.
• Family-owned since Familienbesitz.

PROVENANCE: Galerie Thaddaeus Ropac, Salzburg.
Private collection Southern Germany.
Private collection North Rhine-Westphalia (inherited from the above).

EXHIBITION: Novanta spine al vento/Neunzig Dornen im Wind/Noventa espinas al viento/Ninty Thorns in the Wind, traveling exhibition, Vienna, Antwerp, Venice, Rheda-Wiedenbrück, Ciudad de México, Monterrey, 1989 (with two Mexican museum labels on the reverse).
Sandro Chia, Nationalgalerie, Berlin, September 11 - November 8, 1992, extended until November 29, 1992 (with color illu. p. 153).

In good condition. Upper margin with a small blemish and minimal color loss, with a small subtle fissure in the layer of paint in the lower margin of the image. Artist's frame with a horizontal scratch in upper right. The condition report was compiled in daylight with the help of an ultraviolet light and to the best of knowledge.
For information concerning the condition, please view the high resolution image / backside image.