Art (1945-contemporary) > Figurative Painting (40s-60s ) Le Corbusier - Biography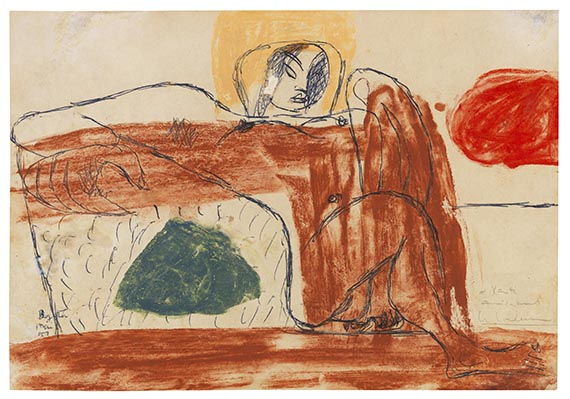 ---
Ohne Titel (Femme assise). 1951.
Mixed media with a ballpoint pen drawing, color chalks, watercolors.
Lower right signed and inscribed with a dedication "à Xanti amicalement Le Corbusier". Lower left dated "mai 57" and inscribed with the location "Bogota". Barely legibly inscribed "WA 4-5564 Comtessa Alberti til 11" on the reverse. On delicate wove paper. 22.8 x 32.8 cm (8.9 x 12.9 in), the full sheet.
[AR].
• Le Corbusier's depictions of women are well known and rich in variety and expression.
• The color appears here almost autonomously from the subject and is exemplary for the development of his style in this creative phase.
• From a very successful period for Le Corbusier, created on a lecture tour to Bogotá.
• Around the same time, in the early 1950s, he worked on the Ronchamp chapel, the Unité d'habitation in Marseilles was completed and the Museum of Modern Art presented an exhibition of his works in New York.
• With a dedication to his friend, the Bauhaus artist Xanti Schawinsky, whose family was in possession of the drawing for a long time.

The work will be included into the forthcoming catalogue raisonné of Le Corbusier's drawings. We are grateful to the Fondation Le Corbusier, Paris, for the kind support in cataloging this lot.

PROVENANCE: Artist's studio.
Present from the artist for Xanti Schawinsky.
Xanti Schawinsky.
Private collection, New York.

"Je n'ai dessiné ou peint que des femmes, ou des images, ou des symboles, ou des géologies de femmes."
(I only drew or painted women, or pictures, or symbols, or geologies of women.)
Le Corbusier, 1968, quoted from: Galerie Zlotowski, Le Corbusier, Zürich, 2004, p. 24.

In an overall good state of preservation, with fine colors. Paper slightly unevenly discolored and with slight handling marks and kinks and isolated, unobtrusive water stains. With a small restored spot in the figure's hair (ca. 1 x 0.5 cm) and with small paper blemishes, predominantlky along the ballpoint pen lines, largely owing to the making.
For information concerning the condition, please view the high resolution image / backside image.