Art (1900-1945) > Figurative Painting (1900-30s ) Le Corbusier - Biography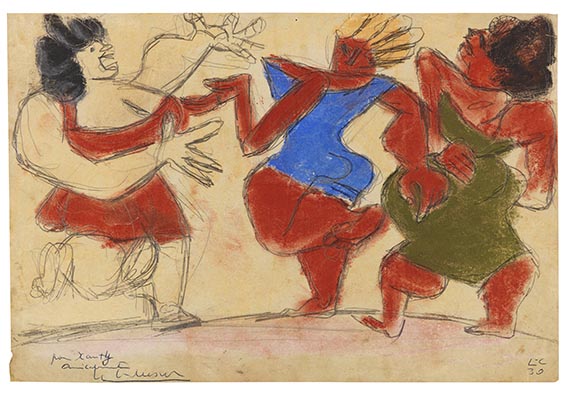 ---
Ohne Titel (Trois femmes en mouvement). 1930.
Pencil drawing with color chalks.
Lower right monogrammed and dated. Lower left signed and inscribed with a dedication "à Xanti amicalement Le Corbusier". On delicate Vosges wove paper (with watermark "The Best Paper Made In Docelles"). 20.8 x 30.9 cm (8.1 x 12.1 in), the full sheet.
[AR].
• Lively, liberated figure scene from the so important graphic work of the architect, painter and sculptor.
• Influenced by his travels around 1930, he draws a lot and concentrated entirely on the joie de vivre and movements of the three women.
• With a dedication to his friend, the Bauhaus artist Xanti Schawinsky, whose family was in possession of the drawing for a long time.

The work will be included into the forthcoming catalogue raisonné of Le Corbusier's drawings. We are grateful to the Fondation Le Corbusier, Paris, for the kind support in cataloging this lot.

PROVENANCE: From the artist's studio.
Present from the artist for Xanti Schawinsky.
Xanti Schawinsky.
Private collection, New York.

"Drawing remained his preferred mode of expression during the whole of his life, and there we often discover a completely different Le Corbusier from the modern architect [.]. In the spontaneity of drawing, he expressed all of his emotional nature [.]."
Riitta Thorens-Hietanen, A Universal Man, in: Nahan Galleries (ed.), Le Corbusier, New York, 1990, p. 7.

In a good state of preservation, with fine colors. All in all slightly discolored and with faint handling marks and traces from the making. With small marginal splits, partly rebacked, and with a rebacked paper blemish in left figure.
For information concerning the condition, please view the high resolution image / backside image.