Art (1945-contemporary) > ZERO Otto Piene - Biography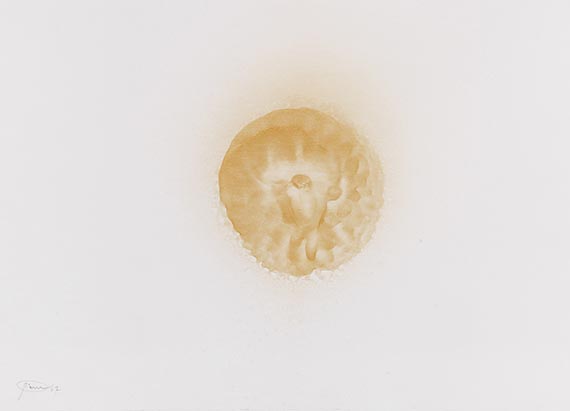 ---
Ohne Titel. 1967.
Gouache, fire.
Lower left signed and dated. On white cardboard. 47.8 x 67.9 cm (18.8 x 26.7 in).
[AW].

• Characteristic work by the "ZERO" artist Otto Piene
• Fascinating synthesis of artistic interference and nature's organic processes
• Piene was triple participant in the documenta in Kassel (II, III and 6) as well as in the São Paulo Biennial in 1985.

PROVENANCE: Galerie Schöller, Düsseldorf (with the gallery label on the reverse).
German private collection.

"What is a picture? A picture is a force field, an arena where the author's energies meet, molten, poured into the colors' movements, received from the bounty of the universe, channeled into the capillaries of the viewer's open soul."
Otto Piene, quoted from: Künstler. Kritisches Lexikon der Gegenwartskunst, vol. 13, p. 2.


For information concerning the condition, please view the high resolution image / backside image.