Art (1900-1945) > Expressionism Ernst Ludwig Kirchner - Biography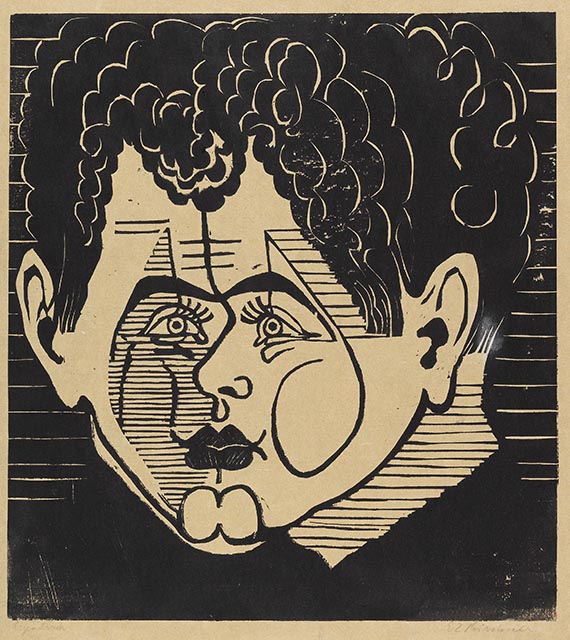 ---
Kopf René Crevel. 1933.
Woodcut.
Gercken 1724. Dube H 632. Signed, titled and inscribed "Eigendruck". One of just 5 known copies. On fien Japon. 37.7 x 34 cm (14.8 x 13.3 in). Sheet: 52 x 41,2 cm (20,5 x 16,2 in).
[CH].
• Acquired directly from the artist in the 1930s, family-owned ever since.
• Portrait of the French poet René Crevel (1900-1935), member of the surrealist group around André Breton (1896-1966).
• In 1933, Crevel was staying not far from Kirchner's place of residence in sanatorium in Davos and was well acquainted with Kirchner.
• Kirchner mentions the expressive woodcut in several letters to sponsors and friends.
• One of only five known examples, one of which is in the collection of the Städel Museum, Frankfurt am Main.
• For the first time in over 60 years, a copy of this rare woodcut is offered on the international auction market (source: artprice.com and catalogue raisonné of Günter Gercken).

PROVENANCE: Private collection (acquired from the artist).
Ever since family-owned.

LITERATURE: Günther Gercken, Ernst Ludwig Kirchner. Kritisches Werkverzeichnis der Druckgraphik, vol. VI (1471-1793, 1925-1937), Bern 2021, p. 280, cat. no. 1724 (with illu., p. 281).

"I made a fine portrait of our friend René Crevel, which he liked, too. I am really fine with my heads now."
E. L. Kirchner in a letter to Max Huggler from January 10, 1934.

"Crevel liked his wood-cut head."
E. L. Kirchner in a letter to Dr. Frédéric Bauer from November 29, 1933, quoted from: Gercken, Werkverzeichnis der Druckgraphik, vol. VI, Bern 2021, p. 280.


For information concerning the condition, please view the high resolution image / backside image.