Art (1945-contemporary) > Surrealism Max Ernst - Biography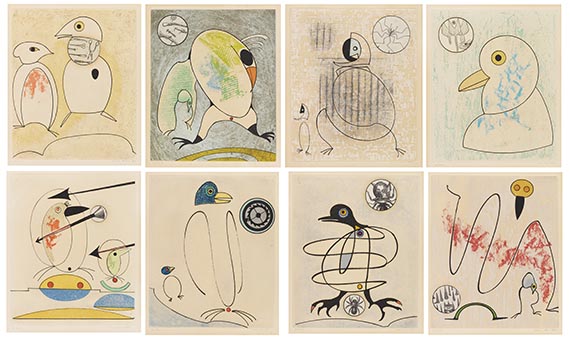 ---
Oiseaux en Péril. 1975.
Color Etching and aquatint and collage.
Each signed and numbered. Verso typographically titled and each inscribed with the respective poem. Series of eight sheets from an edition of 100 copies. On Arches wove paper (with atermark, folded as double sheet). 30.6 x 25.4 cm (12 x 10 in). Sheet: 54,5 x 42 cm (21,4 x 16,5 in).

The complete series of eight illustrations for Dorothea Tanning's book of poems "Oiseaux en Péril", published by Georges Visat, Paris.
Contains: Mon fiancé est une idée saugrenue. Tous les couleurs du soir lilas. Au printemps il se pare d'une notion nuptiale importée d'Ègypte. Si le chant et la parade suffisent pas. Devant mon aile droite couve le morne militaire. Je suis un être oisif. La carte du monde tourne en dérision. Nous sommes la somme de nos envergures. [AW].

• The bird is a recurring key motif in the works of the great surrealist
• Reduced and expressive pictorial language
• He made the imaginative depictions for a book of poems by his wife Dorothea Tanning shortly before his death.

PROVENANCE: Private collection Luxemburg.


For information concerning the condition, please view the high resolution image / backside image.