Art (1945-contemporary) > Abstract Art Post-War Richard Tuttle - Biography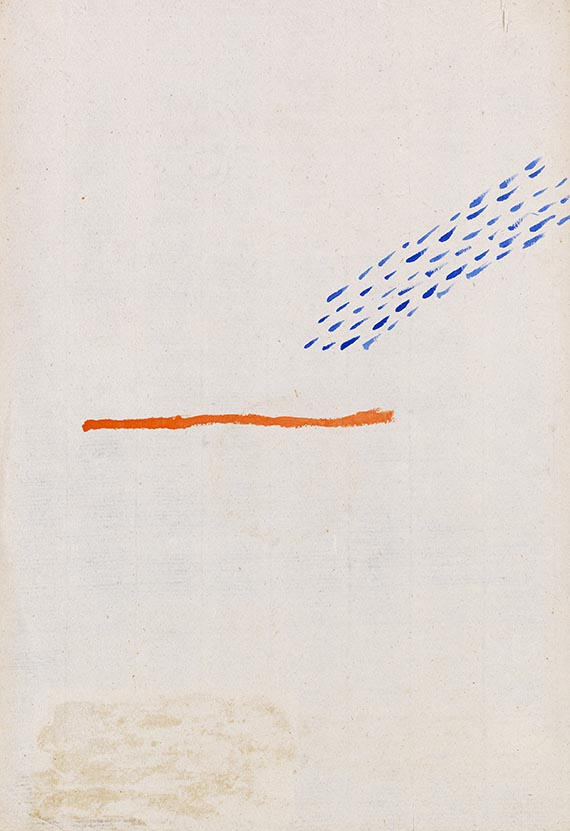 ---
Untitled. 1972.
Watercolor on paper.
On laid paper. 30.5 x 21.2 cm (12 x 8.3 in), size of sheet. [EH].

• Richard Tuttle amazes observers of his remarkably poetic drawings.
• His fragile spatial drawings oscillate between sculpture and painting.
• In 2004 the Whitney Museum, New York, honored the great representative of Minimal Art with a grand retrospective show.
• His works are at, among others, the MoMA New York, the Sprengel Museum Hanover and the Centre Pompidou, Paris.

PROVENANCE: Private collection Hamburg.

"Richard Tuttle has revolutionized the landscape of contemporary art, challenging rules and notions of genre and media." (www.pacegallery.com/artists/richard-tuttle/ on September 12, 22 at 3:18 p.m.)

Edges slightly discolored. With s skillfully closed split in lower right. With a dedication pasted in bottom margin on the reverse by a hand other than that of the artist, bleeding through to recto.
For information concerning the condition, please view the high resolution image / backside image.