Art (1945-contemporary) > Abstract Art Post-War Heinz Trökes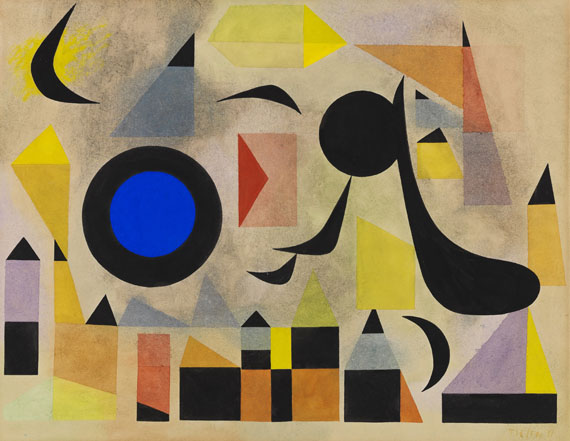 ---
Blaues Licht. 1951.
Watercolor and gouache.
Lower right signed and dated. Dated "Paris, 1. 30. III. 51" and titled on the reverse. On watercolor paper. 50 x 64.5 cm (19.6 x 25.3 in), the full sheet. [JS].

• Early work in his characteristic, poetic style: Inspired by Kandinsky, Klee, Itten and Wols, Trökes found his typical style around 1950.
• Remarkable composition with a fascinating clarity and a dreamy poetry.
• Made in Paris in 1951, the work testifies to the Trökes' friendship with Wols and the author Paul Celan, as well as his closeness to the Paris surrealists.
• Along with Albers, Arp, Soulages and others, Trökes was part of the exhibition "Contemporary Painters and Sculptors as Printmakers" at the Museum of Modern Art, New York as early as in 1964.

The work is mentioned in the artist's online catalogue raisonné. We are grateful to Mr Manuel Trökes for his kind expert advice.

PROVENANCE: Dr. J. Springer (1956).
Private collection Baden-Württemberg.

EXHIBITION: Heinz Trökes. Ölbilder, Aquarelle, Zeichnungen, Haus am Waldsee, Berlin 1956, cat. no. 99.

In very good condition. Minimally discolored and slightly sunned. Corners with faint isolated kinks, upper edge with a few tiny splits (up to 0.5 cm).
For information concerning the condition, please view the high resolution image / backside image.