Art (1945-contemporary) > Abstract Art Post-War Sean Scully - Biography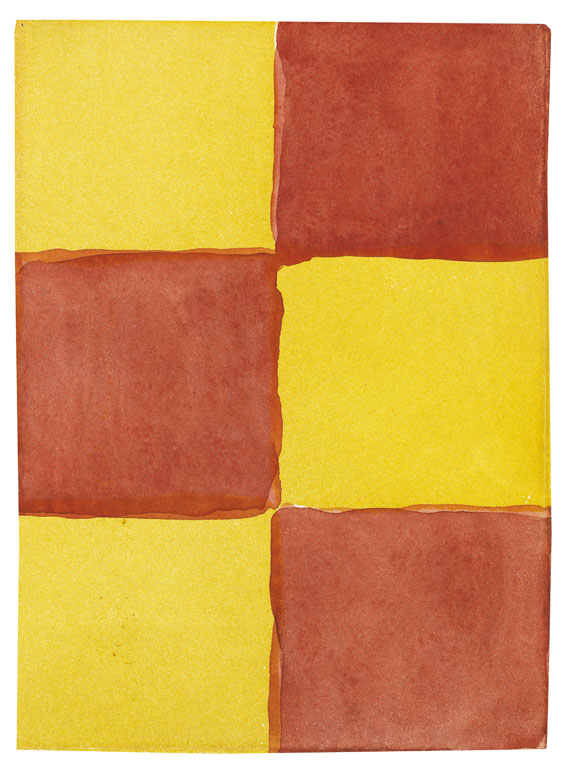 ---
Unframed. 1996.
Watercolor.
Signed, dated and inscribed "Unframed 24/50" on the reverse. On firm wove paper. 20 x 14.8 cm (7.8 x 5.8 in), the full sheet.
[AM].
• Sean Scully creates thrilling works in a most simple pictorial language.
• Small size with great expressiveness.
• The year this watercolor was made, the artist's paper works were honored with a grand traveling exhibition with stops at, among others, the Museum Folkwang, Essen, the Denver Art Museum and the Staatliche Graphische Sammlung, Munich.

PROVENANCE: Auction for the beneift of ACRIA (AIDS Community Research Initiative of America) (1996).
Wolfryd.Selway Fine Art, Los Angeles.
Private collection (acquired from the above in 1998).

"I look at the way people patch things."
Sean Scully, quoted from: Maria Müller et al (ed.), Sean Scully. Paintings, Pastels, Watercolors, Photographs, Düsseldorf 2001, p. 8.

In good condition. Upper right and lower edge slightly irregular, presumably in the work's nature. Each upper corner with a round hole, presumably from the making.
For information concerning the condition, please view the high resolution image / backside image.