Art (1900-1945) > Figurative Painting (1900-30s ) George Grosz - Biography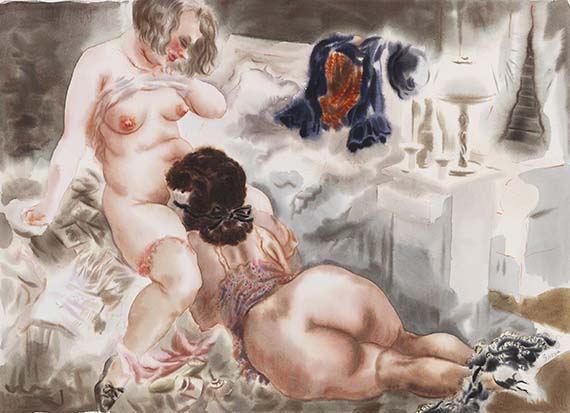 ---
Liebesspiel – Eva und Lotte. 1927.
Watercolor.
Lower right signed. Verso titled, dated and inscribed "von George Grosz selbst erworben" by a hand other than that of the artist (Florian Karsch). On P.M.Fabriano wove paper (with watermark). 47.9 x 66.7 cm (18.8 x 26.2 in), size of sheet.
[AM].
• In a painting-like appearance.
• One of George Grosz's characteristic, provocative nudes.
• His works are in significant museums like Tate Gallery, London, the Museum of Modern Art, New York, and the Stedelijk Museum, Amsterdam.

With a photo expertise from Ralph Jentsch, Berlin, dated August 11, 2022. This work will be included into the forthcoming catalogue raisonné of paper works.

PROVENANCE: Galerie Nierendorf, Berlin (acquired from the artist in 1958, verso with hand-written note).
Art dealer Hagemeier, Frankfurt a. Main (2007).
Private collection Southern Germany.

EXHIBITION: 636 Werke von 50 Künstlern des zwanzigsten Jahrhunderts. Zweiundsechzig Arbeiten von George Grosz zum hundertsten Geburtstag, Kunstblätter 56, Herbst/Winter 1993/94, Oct. 1993 to March 1994, cat. no. 23 (with color illu, p. 19) (here tiled "Sitzende und Liegende im Schlafzimmer").
George Grosz. Arbeiten aus den 40er Jahren, Beate Uhse Erotik-Museum, April 2 - September 30, 1998, p. 18 (with color illu.).


For information concerning the condition, please view the high resolution image / backside image.