Art (1900-1945) > Figurative Painting (40s-60s ) George Grosz - Biography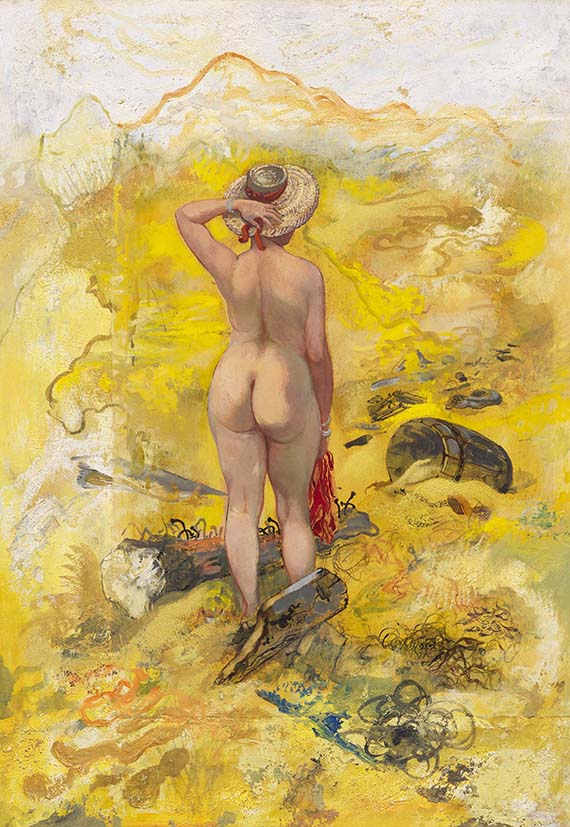 ---
A Summer Day. Um 1940.
Oil on cardboard on fiberboard.
Verso with the estate stamp and the hand-written number "1 A3 1". 70.2 x 49.1 cm (27.6 x 19.3 in). [CH].

• From the artist's years in exile in the USA (1933-1958).
• Grosz stages the sensuous nude from behind in an almost abstract landscape.
• In the middle of the war, the artis contrasts the nude on a peaceful beach in summer with a world that is falling apart.

Accompanied by a photo expertise issued by Ralph Jentsch, Rome/New York, of March 12, 2012 (in copy). The work will be included into the fortcoming oeuvre catalog of paintings.

PROVENANCE: From the artist's estate (with the estate stamp on the reverse).
Private collection Southern Germany.

EXHIBITION: George Grosz. Der Akt 1912-1948, 73. Catalog Galerie Henze & Ketterer, Wichtrach/Bern, May 13 - September 23, 2006, cat. no. 93 (with illu., p. 107).
George Grosz. Die Jahre in Amerika 1933-1958, Galerie Nolan Judin, Berlin, February 28 - April 25, 2009; David Noland Gallery, New York, September 16 - Ocotber 31, 2009, no. IV, cat. no. 34 (with illu., p. 115).


For information concerning the condition, please view the high resolution image / backside image.