Art (1945-contemporary) > Figurative Painting (40s-60s ) Gerhard Marcks - Biography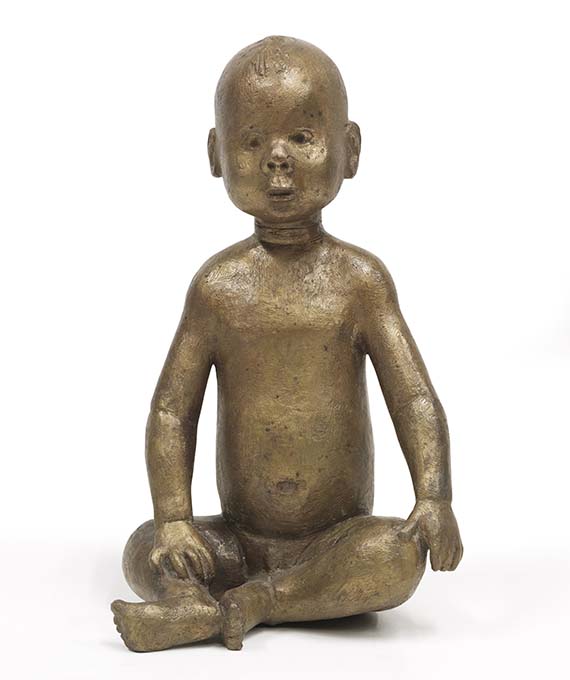 ---
Sitzendes Kleinkind. 1957.
Bronze, with gold-brown patina.
Rudloff 681. With the artist's signed, the number and the foundry mark "Guss Barth Rinteln" on the bottom. One of twelve copies. Height: 38.5 cm (15.1 in).
Cast by art foundry Gießerei Barth, Rinteln after 1970. "Sitzendes Kleinkind" is mentioned in the artist's journals (for his works of plaster and bronze) under the number 470. An additional ten sheet with sketches were made in the studio. [CH].
• For the first time offered on the international auction market (source: artprice.com).
• In the 1950s, the artist also made the Bremen landmark "Bremer Stadtmusikanten", the "Job" bronze in front of St. Klara Church in Nuremberg and the Albertus Magnus monument in front of the University of Cologne.
• In 1952, Marcks took part in the Venice Biennial as a representative of German sculpting and showed works at documenta I and II in Kassel in 1955 and 1959.
• Gerhard Marcks used the design for our "sitting toddler" again in the same year for the bronze "Mother with Child" (Rudloff 683).

PROVENANCE: Galerie Nierendorf, Berlin.
Private collection Baden-Württemberg (acquired from the abobve in 1989).
Ever since family-owned.


For information concerning the condition, please view the high resolution image / backside image.