Art (1945-contemporary) > Informal Gerhard Hoehme - Biography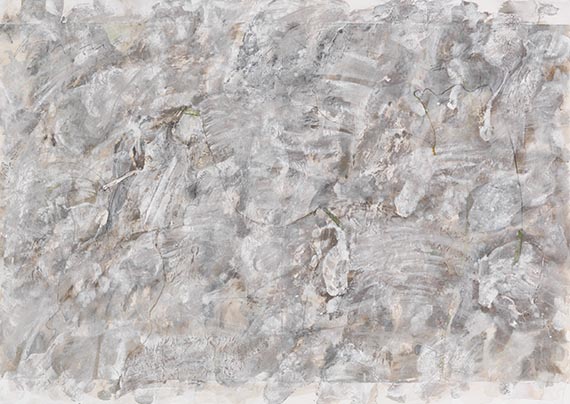 ---
Der Gesang der Steine am Eingang zur Unterwelt. 1964.
Mixed media on paper.
Signed and dated in upper left. Verso once more signed, dated, titled and inscribed. 70 x 99.5 cm (27.5 x 39.1 in).
[AR].
• Gerhard Hoehme's oeuvre is a vital contribution to German Informalism.
• As of 1960, his work became more versatile and three-dimensionality gained in importance.
• In 1959 the artist participated in documenta II in Kassel
• In 2020 the Düsseldorf Art Academy, Hoehme's alma mater, honored the artist with a grand retrospective show on occasion of his 100th birthday.

PROVENANCE: Westend Galerie, Frankfurt.
Private collection Hesse.

"I want to make the unfathomable visible while leaving it in its realm of incomprehensibility."
Gerhard Hoehme, Reflektionen, 1984, quoted after: Margarete Hoehme, Gerhard Hoehme. Catalogue Raisonné, Ostfildern-Ruit 1998, p. 524.

In good condition. Paper slightly wavy from technique. The condition report was compiled in daylight with the help of an ultraviolet light and to the best of knowledge.
For information concerning the condition, please view the high resolution image / backside image.