Art (1900-1945) > Expressionism Otto Mueller - Biography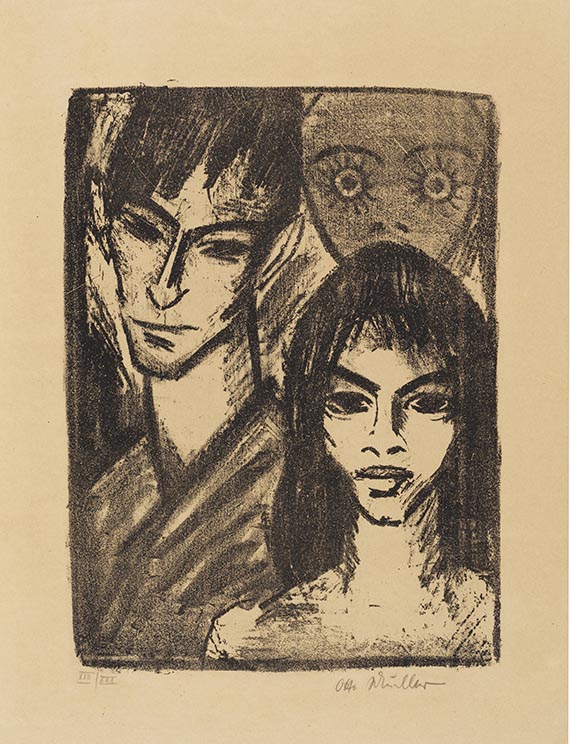 ---
Selbstbildnis mit Modell und Maske. 1921/22.
Lithograph.
Karsch 141 b (of b). Signed and Roman numbered. From an edition of 30 Roman numbered copies. Om brownish copper plate printing paper. 38.4 x 29 cm (15.1 x 11.4 in). Sheet: 56 x 43,5 cm (22,1 x 17,1 in).
Published in 1922 by Verlag Graphisches Kabinett I. B. Neumann, Berlin, as sheet no. 3 in the portfolio "Otto Mueller: Zehn Lithographien".
• In 1964 on the poster of the Otto-Mueller-Gedächtnisausstellung at Galerie Nierendorf, Berlin.
• Strng graphic flow.
• Mueller stages himself in his role as artist with great aplomb, a female model at his side and with a mask to emphasize his interest in forign cultures.
• The model is Otto Mueller's friend and academy student Irene Altmann.
• Other copies are at the Grunwald Center for the Graphic Arts, Hammer Museum of the University of California, Los Angeles, the Städel Museum, Frankfurt am Main, the Brücke Museum, Berlin, the Herzog Anton Ulrich-Museum, Brunhwick and the Schlossmuseum Murnau (permanent loan).

The work is registered in the Hermann Gerlinger Collection with the number SHG 891 a.

PROVENANCE: Hermann Gerlinger Collection, Würzburg (with the collector's stamp, Lugt 6032).

EXHIBITION: Kunstmuseum Moritzburg, Halle an der Saale (permanent loan from the Hermann Gerlinger Collection, 2001-2017).
Buchheim Museum, Bernried (permanent loan from the Hermann Gerlinger Collection, 2017-2022).

Good overall impression. Evenly browned and with faint rubbed spots and stains in margins.
For information concerning the condition, please view the high resolution image / backside image.