Art (1900-1945) > Expressionism Ernst Ludwig Kirchner - Biography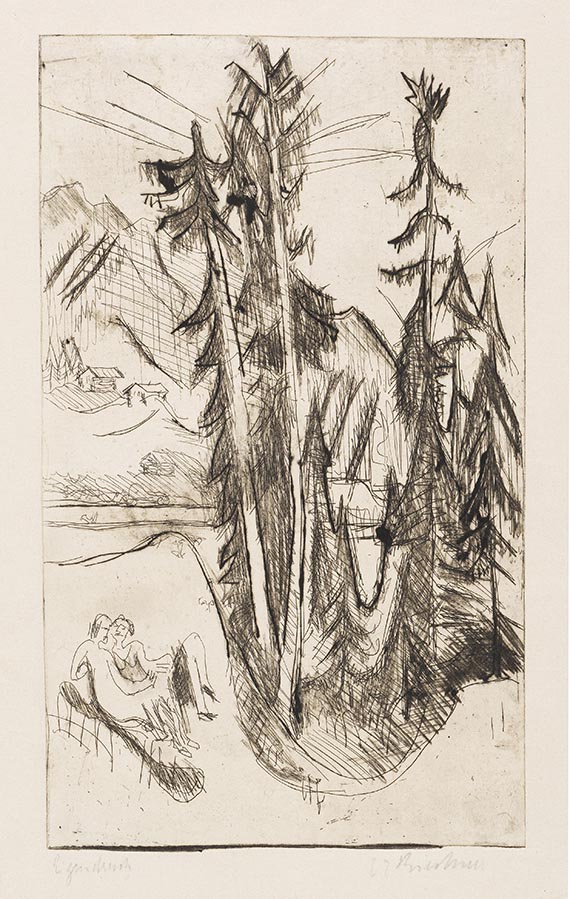 ---
Berglandschaft mit Liebespaar. 1934.
Etching.
Gercken 1746 II.1 (of II.2). Dube R 635. Signed and inscribbed "Eigendruck". Inscribed "Nr. 125" on the reverse, presumbaly by a hand other than that of the artist. One of just five known copies of this etching and one of only four copies from this state, of which two were printed in black. On light board. 31.8 x 19 cm (12.5 x 7.4 in). Sheet: 40 x 24,2 cm (15,7 x 9,5 in).

• Hand-printed by the artist.
• To make his own prints, Kirchner had his printing press shipped from Berlin to Davos.
• One of only two known copies from the state in black, the other one is at the Kunstmuseum Basel.
• From 1923 until his death in 1938 the artist lived in the Sertig Valley.
• The Davos mountains were his main source of inspiration in those years.
• In 1935 a copy of this rare etching was one of the five prints the Kupferstichkabinett Basel acquired for its collection.

PROVENANCE: Barbara Wentzel, Stuttgart (presumably inherited from Prof. Dr. Hans Wentzel in 1975).
Hermann Gerlinger Collection, Würzburg (acquired from the above in 1988, with the collector's stamp, Lugt 6032)).

EXHIBITION: Schleswig-Holsteinisches Landesmuseum, Schloss Gottorf, Schleswig (permanent loan from the Hermann Gerlinger Collection, 1995-2001).
Kunstmuseum Moritzburg, Halle an der Saale (permanent loan from the Hermann Gerlinger Collection, 2001-2017).
Buchheim Museum, Bernried (permanent loan from the Hermann Gerlinger Collection, 2017-2022).

LITERATURE: Heinz Spielmann (ed.), Die Maler der Brücke. Sammlung Hermann Gerlinger, Stuttgart 1995, p. 282, SHG no. 417 (with illu. p. 283).
Hermann Gerlinger, Katja Schneider (eds.), Die Maler der Brücke. Inventory catalog Hermann Gerlinger Collection, Halle (Saale) 2005, p. 364, SHG no. 809 (with illu.).

In good condition. With slight kinks and crimps. Left marign with a vertical pressure mark. Margins with rubbed spots and with a brownish spot in right. Edges minimally scuffed in places.
For information concerning the condition, please view the high resolution image / backside image.