Art (1900-1945) > Expressionism Ernst Ludwig Kirchner - Biography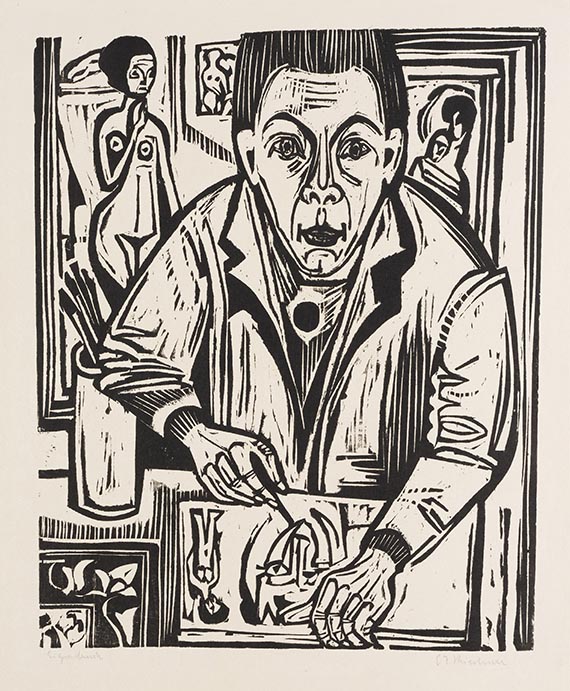 ---
Selbstbildnis, zeichnend. 1921.
Woodcut.
Gercken 1223 II (of II). Dube H 465 II. Schiefler H 451. Signed and inscribed "Eigendruck". With the estate stamp on the reverse (Lugt 1570 b), however, without the hand-written number. One of just seven known copies of this woodcut and one of just two known copies from this state. On wove paper. 46.3 x 37.6 cm (18.2 x 14.8 in). Sheet: 54,2 x 44,8 cm (21,3 x 17,6 in).
The title may not be all too accurate, as Kirchner presumably did not portray himself drawing but cutting wood instead. Accordingly, the copy at the Kunstmuseum Basel was titled "Selbstbildnis, Holzschneidend" by the artist.
• Hand-printed by the artist.
• Formerly part of the collection of Kirchner's patron, the art historian and philosopher Eberhard Grisebach (1880-1945).
• One of just two known copies from this state.
• Four of the sevn known copies are museum-owned: Detroit Institute of Arts, Washington, D.C., Kunstmuseum Bern, Hamburger Kunsthalle and Herzog Anton Ulrich-Museum der Landesmuseen Braunschweig.
• The last copy of this woodcut was sold on the international auction market 25 years ago (source: artprice).
• Kirchner uses the woodcut technique to show himself as woodcutter.
• In 1923 he made a similar self-portrait as artist at work in oil (Hamburger Kunsthalle).

The work is registered in the Hermann Gerlinger Collection with the number SHG 786 b.

PROVENANCE: Eberhard Grisebach Collection (1880-1945), Jena/Zürich.
Hermann Gerlinger Collection, Würzburg (with the collector's stamp, Lugt 6032).

EXHIBITION: Kunstmuseum Moritzburg, Halle an der Saale (permanent loan from the Hermann Gerlinger Collection, 2001-2017).
Buchheim Museum, Bernried (permanent loan from the Hermann Gerlinger Collection, 2017-2022).

In good condition, consistent of the age. Margins creased in places, with a slight vertical pressure mark in right margin. Lower left corner with a smll brownish discoloration. Right margin slightly irregular. With a tiny pressure mark in lower right.
For information concerning the condition, please view the high resolution image / backside image.