Art (1945-contemporary) > Expressionism Karl Schmidt-Rottluff - Biography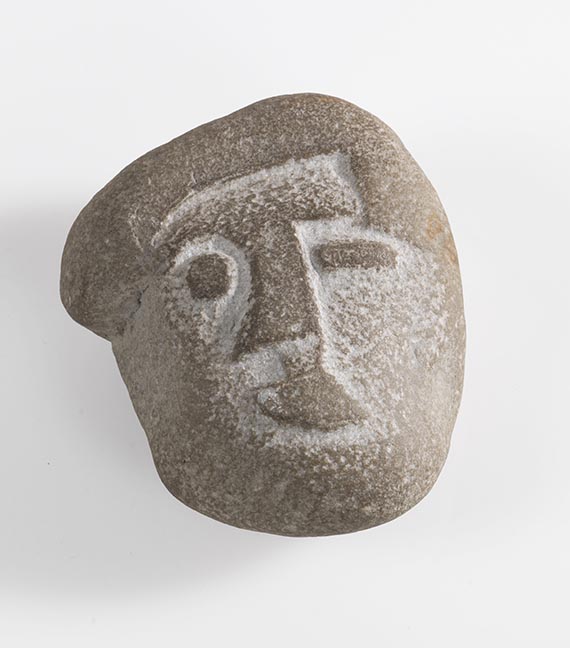 ---
Kopf. 1953.
Stone relief.
With a small adhesive paper label on the rear, there numbered "53". 6.5 x 6 x 3 cm (2.5 x 2.3 x 1.1 in).
[KT].

The work is documented in the archive of the Karl and Emy Schmidt-Rottluff Foundation Berlin.

PROVENANCE: Karl Ludwig Skutsch Collection (1905-1958), Berlin (gifted from the artist in 1956).
Private collection Paris.
Hermann Gerlinger Collection, Würzburg (acquired from the above in 2009, Bassenge, November 28, 2009).

EXHIBITION: Karl Schmidt-Rottluff: Das nachgelassene Werk seit den 20er Jahren. Malerei, Plastik, Kunsthandwerk, Brücke Museum, Berlin, August 20, 1977 - January 15, 1978, plate 54: "Drei Köpfe", no. 104, 105 and 107.
Kunstmuseum Moritzburg, Halle an der Saale (permanent loan from the Hermann Gerlinger Collection, 2001-2017).
Buchheim Museum, Bernried (permanent loan from the Hermann Gerlinger Collection, 2017-2022).

LITERATURE: Bassenge, Berlin, auction on November 28, 2009, lot 7312 (with illu.).
Hermann Gerlinger, Katja Schneider (eds.), Die Maler der Brücke. Inventory catalog Hermann Gerlinger Collection, Halle (Saale) 2005, working copy, hand-written addenda from 2019, p. 126, SHG no. 288a (no illu.).

In good condition. With superficial isolated adhesion. With slight handling marks, front slightly darkened.
For information concerning the condition, please view the high resolution image / backside image.