Art (1900-1945) > Expressionism Ernst Ludwig Kirchner - Biography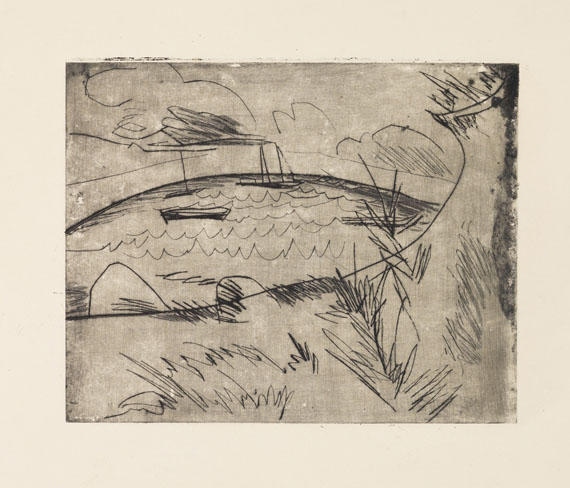 ---
Strand, Wind, Boote. 1913.
Etching.
Gercken 609, Dube R 158, Schiefler R. 147. One of 5 known copies. On copper plate printing paper. 19.8 x 24.6 cm (7.7 x 9.6 in). Sheet 36 x 40,3 cm (14,2 x 16 in).
[EH].
• Made on Fehmarn in the summer of 1913.
• Typical account of the Fehmarn coast.
• Another copy is in the 'Graphische Sammlung der Museumslandschaft Kassel'.

PROVENANCE: Galerie Schweinsteiger, Munich (December 1996).
Hermann Gerlinger Collection, Würzburg (acquired from the above, with the collector's stamp, Lugt 6032).

EXHIBITION: Kunstmuseum Moritzburg, Halle an der Saale (permanent loan from the Hermann Gerlinger Collection, 2001-2017).
Buchheim Museum, Bernried (permanent loan from the Hermann Gerlinger Collection, 2017-2022).

LITERATURE: Hermann Gerlinger, Heinz Spielmann (eds.), Ernst Ludwig Kirchner auf Fehmarn, Schleswig 1997, no. 40, p. 100 (with illu.) and p. 156.
Hermann Gerlinger, Katja Schneider (eds.), Die Maler der Brücke. Inventory catalog Hermann Gerlinger Collection, Halle (Saale) 2005, p. 332, SHG no. 794 (with illu.).


For information concerning the condition, please view the high resolution image / backside image.