Art (1900-1945) > Expressionism Karl Schmidt-Rottluff - Biography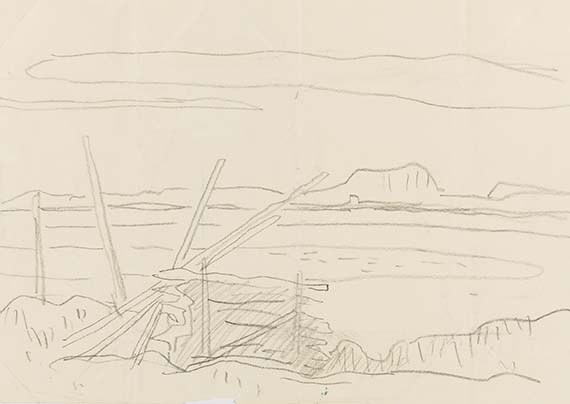 ---
Reusenstangen am Lebasee. 1936.
Black Chalk drawing.
On off-white wove paper. 38.3 x 54 cm (15 x 21.2 in), size of sheet. [CH].
Sent to Sonia Eckhardt-Gramatté as a laetter, which explains the stamps on the reverse, the LEba postage stamp from August 18, 1936 and the address: "Frau Sonja [sic!] Eckhardt-Gramatté, Wien 62, Mariahilfer Str. 74 c" and "Abs. SR. Rumbke Post Leba Pom.".
• Between 1932 and 1943 the artist spent most summer and autumn months in the small village of Rumbke (today Rabka) on Lake Leba.
• On the coast the artist was able to continue working even during the years of his defamation.
• Schmidt-Rottluff sent a greeting in form of a sketch to the musician and composer Sonia (Sophie-Carmen) Eckhardt-Gramatté, widow of the painter Walter Gramatté (1897-1929), who both were close friends of the artist.
• A similar watercolor titled "Reusenstangen am Haff (am Lebasee)" is in the Hamburger Kunsthalle.

The work is registered in the archive of the Karl and Emy Schmidt-Rottluff Foundation, Berlin.

PROVENANCE: Sonia Eckhardt-Gramatté, Vienna (received as letter from the artist in 1936, verso inscribed with address and addresser).
Hermann Gerlinger Collection, Würzburg (with the collector's stamp, Lugt 6032).

EXHIBITION: Kunstmuseum Moritzburg, Halle an der Saale (permanent loan from the Hermann Gerlinger Collection, 2001-2017).
Buchheim Museum, Bernried (permanent loan from the Hermann Gerlinger Collection, 2017-2022).

Fine harmonious overall impression. Owing to the folding as letter with vertical, horizontal and diagonal folding marks, with skinnings and small splits. Edges with a few faint crimped and blemished spots. Bottom center with a small green color trace. [JS]
For information concerning the condition, please view the high resolution image / backside image.