Art (1945-contemporary) > Expressionism Erich Heckel - Biography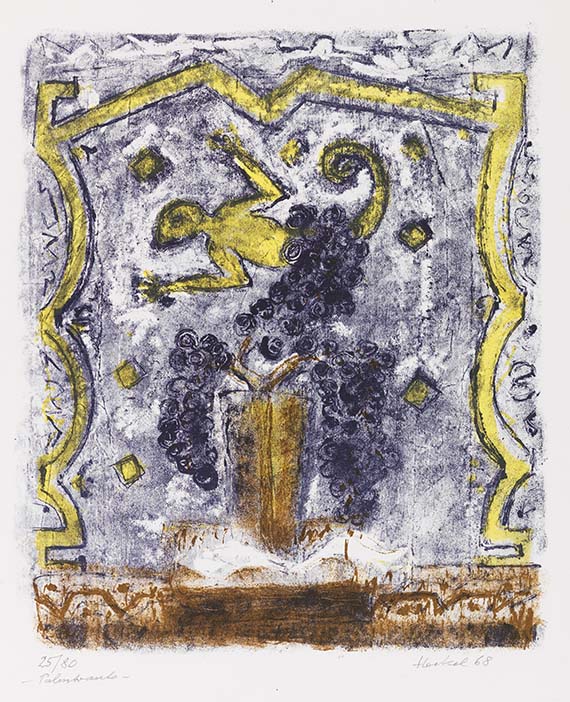 ---
Palmtraube. 1968.
Lithograph in colors.
Ebner/Gabelmann 1081 L. Dube L 398. Signed, dated, numbered and titled. From an edition of 80 copies. On BFK Rives wove paper (with watermark). 48.1 x 40.8 cm (18.9 x 16 in). Sheet: 56,3 x 45,1 cm (22,2 x 17,8 in).
Printed by Emil Matthieu, Zürich. [AM].
• One of the five remarkable lithographs with which Erich Heckel completed his graphic creation at the age of 85.
• The experienced artist realized the strong and rich color nuances by superimposing single litho stones.
• In the past 20 years just one copy of this expressive print was offered on the international auction market (source: artprice.com).

PROVENANCE: Hermann Gerlinger Collection, Würzburg (with the collector's stamp, Lugt 6032).

EXHIBITION: Buchheim Museum, Bernried (permanent loan from the Hermann Gerlinger Collection, 2017-2022)
Erich Heckel, Einfühlung und Ausdruck, Buchheim Museum, Bernried, Ocotber 31, 2020 - March 7, 2021, p. 411 (with color illu.).

LITERATURE: Hermann Gerlinger, Katja Schneider (eds.), Die Maler der Brücke. Inventory catalog Hermann Gerlinger Collection, Halle (Saale) 2005, p. 632, SHG no. 276 (with color illu.).

In good condition. Upper and lower margin with a tiny hole, presumably from the making. Upper left corner with a slight kink.
For information concerning the condition, please view the high resolution image / backside image.