Art (1900-1945) > Expressionism Ernst Ludwig Kirchner - Biography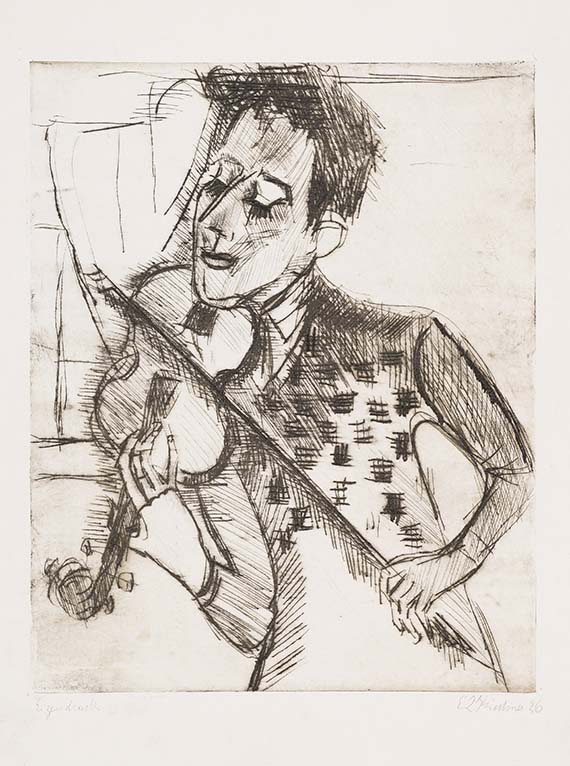 ---
Der Geiger Gustav Häusermann. 1927.
Etching.
Gercken 1592 III (of III). Dube R. 565 III (of III). Schiefler R. 531. Signed, dated "26" and inscribed "Eigendruck". One of to date 4 known copies. On copper plate printing board. 31.2 x 25 cm (12.2 x 9.8 in). Sheet: 40,4 x 30 cm (15,9 x 11,8 in).
[AR].
• The violinist Gustav Häusermann met Ernst Ludwig Kirchner at the sanatorium Clavadel in Davos in 1926.
• In 1927 the musuician inspired the artist to several works, among them also paintings.
• In total, only 4 copies from three printing state sare known, three of which are museum-owned (Kirchner Museum Davos, Sprengel Museum Hanover, Kunsthaus Zürich).

PROVENANCE: Collection Dr. Muchall-Viebrook, Munich (until 1927).
Staatliche Graphische Sammlung, Munich (gifted from the above, with the stamp on the reverse, Lugt 1094a).
State-owned (confiscated from the above in context of the Degenrate Art Campaign in 1937, no. 15525).
Galerie Ferdinand Möller (presumably obtained in an exchange with the above in 1940, with the stamp and the hand-written entry note on the reverse).
Private collection Ferdinand Möller, Zermützel (1943-1949).
Hermann Gerlinger Collection, Würzburg (with the collector's stamp, Lugt 6032).

EXHIBITION: Schleswig-Holsteinisches Landesmuseum, Schloss Gottorf, Schleswig (permanent loan from the Hermann Gerlinger Collection, 1995-2001).
Kunstmuseum Moritzburg, Halle an der Saale (permanent loan from the Hermann Gerlinger Collection, 2001-2017).
Buchheim Museum, Bernried (permanent loan from the Hermann Gerlinger Collection, 2017-2022).

LITERATURE: Annemarie Dubbe, Wolf-Dieter Dubbe, Ernst Ludwig Kirchner. Das graphische Werk, Munich 1967, cat. no. R 565.
Franz Roh, "Entartete" Kunst. Kunstbarbarei im Dritten Reich, Hanover 1962, p. 240.
Heinz Spielmann (ed.), Die Maler der Brücke. Sammlung Hermann Gerlinger, Stuttgart 1995, pp. 278f., SHG no. 408 (with color illu.).
Hermann Gerlinger, Katja Schneider (eds.), Die Maler der Brücke. Inventory catalog Hermann Gerlinger Collection, Halle (Saale) 2005, p. 357, SHG no. 796 (with color illu.).
Elisabeth Stuermer, Liste der als "entartete" beschlagnahmten Werke - aus dem Inventar gestrichen, Staatliche Graphische Sammlung München 2007 (unpublished), cat. no. 113.
www.geschkult.fu-berlin.de/e/db_entart_kunst/datenbank (no. 15525).

"The young violinist Häusermann has left. Bummer! I liked him a lot."
Ernst Ludwig Kirchner, diary entry from February 15, 1927, quoted from: Lothar Grisebach (ed.), Ernst Ludwig Kirchners Davoser Tagebuch, Stuttgart 1997, p. 150.

In good condition. White margin minimally soiled and with faint isolated creases and with some brownish stains in left margin. Each corner of the image with a tiny paper blemish, presumably from the making.
For information concerning the condition, please view the high resolution image / backside image.