Art (1900-1945) > Expressionism Otto Mueller - Biography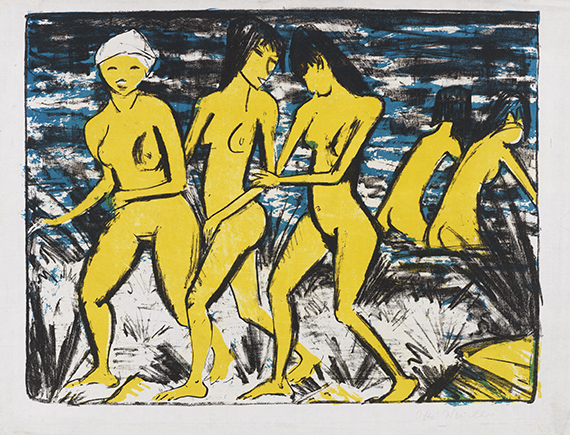 ---
Fünf gelbe Akte am Wasser. 1921.
Lithograph in colors.
Karsch 156 a (of c). Signed. One of ca. 25 uncounted, fully signed luxury proofs on Japon aside from the edition of ca. 100 monogrammed copies on laid paper. On delicate Japon. 33.5 x 43.8 cm (13.1 x 17.2 in). Sheet: 37,8 x 50,9 cm (14,8 x 20 in).
[JS].
• Large-size lithograph in radiant colors, owing to its striking planeness, it shows clear paralllels to Matisse's Fauvist nudes.
• Excellent example of Mueller's quest for the unity of man and nature.
• De-luxe print on fine Japon aside from the edition.
• Rare. To date only 5-6 signed de-luxe prints on Japon have been offered on the international auction market (source: artprice.com).

PROVENANCE: Hermann Gerlinger Collection, Würzburg (verso with the collector's stamp, Lugt 6032).

EXHIBITION: Schleswig-Holsteinisches Landesmuseum, Schloss Gottorf, Schleswig (permanent loan from the Hermann Gerlinger Collection, 1995-2001).
Kunstmuseum Moritzburg, Halle an der Saale (permanent loan from the Hermann Gerlinger Collection, 2001-2017).
Buchheim Museum, Bernried (permanent loan from the Hermann Gerlinger Collection, 2017-2022).

LITERATURE: Heinz Spielmann (ed.), Die Maler der Brücke. Sammlung Hermann Gerlinger, Stuttgart 1995, p. 253, SHG no. 362 (with illu.).
Hermann Gerlinger, Katja Schneider (eds.), Die Maler der Brücke. Inventory catalog Hermann Gerlinger Collection, Halle (Saale) 2005, p. 413, SHG no. 893 (with illu.).

In good condition. With isolated faint brown stains primarily in the margins and with slight creases and traces of rubbing in the area of the edges and slightly soiled primarily in the lower corners. Edges with a few minimal blemishes as well as a small, expertly closed tear at bottom left and top right. Verso in the corners with isolated paper thinnings due to the mounting, partially professionally filled. In the thigh of the left nude with a fine gap in color caused by the paper fibre.
For information concerning the condition, please view the high resolution image / backside image.