Art (1945-contemporary) > Expressionism Erich Heckel - Biography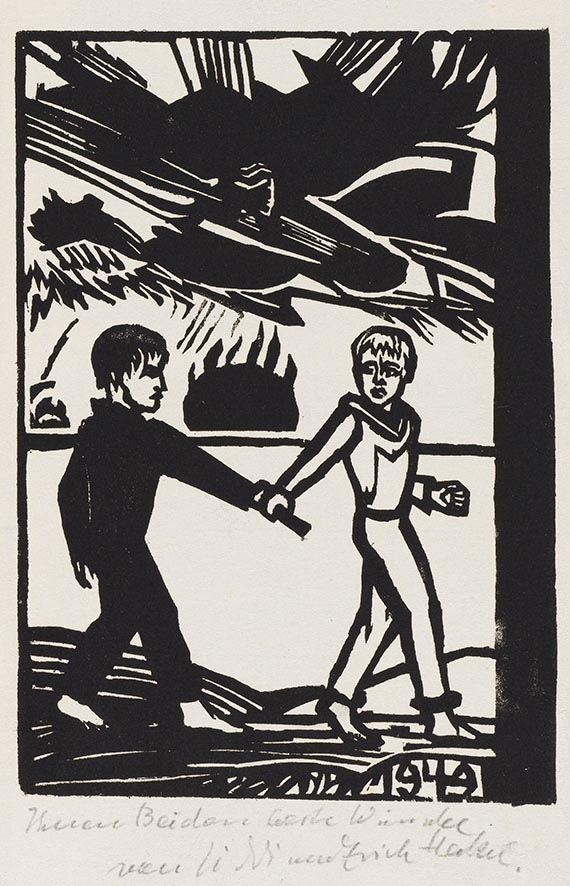 ---
Stafettenläufer. 1948.
Woodcut.
Ebner/Gabelmann 917 H. Dube H 387. Signed and inscribed "Ihnen Beiden beste Wünsche von Siddi und Erich Heckel". Printing block with the year "1949". On Japon. 18.8 x 13.3 cm (7.4 x 5.2 in). Sheet: 23,7 x 14,9 cm (9,3 x 5,9 in).
Published as 18th annual sheet, 1948. In 1930, Heckel started the tradition of sending a print, usually a woodcut, with a symbolic message as New Year greeting to friends. Up until 1968, some 38 of these "Jahresblätter" (Annual Sheets) were made. [AM].
• Annual sheet with wishes for 1949, sent to friends and collectors.
• From the collection of Dr. Lovis Gremliza, founder of the Lovis-Press, to whom the sheet was dedicated.
• Another copy is at the Metropolitan Museum of Art, New York.

PROVENANCE: Collection of Dr. Georg Ludwig (Lovis) Gremliza (with the collector's stamp on the reverse).
Private collection Northern Germany.
Hermann Gerlinger Collection, Würzburg (with the collector's stamp, Lugt 6032, Ketterer Kunst, Munich).

EXHIBITION: Kunstmuseum Moritzburg, Halle an der Saale (permanent loan from the Hermann Gerlinger Collection, 2001-2017).
Buchheim Museum, Bernried (permanent loan from the Hermann Gerlinger Collection, 2017-2022).

LITERATURE: Ketterer Kunst, München, 276. Auktion, 7.12.2002, Los 249.
Hermann Gerlinger, Katja Schneider (Hrsg.), Die Maler der Brücke. Bestandskatalog Sammlung Hermann Gerlinger, Halle (Saale) 2005, S. 253, SHG-Nr. 571 (m. Abb.).

In good condition. Lower right margin with isolated crimped spots. Three tiny, barely visible stains in places of the image.
For information concerning the condition, please view the high resolution image / backside image.