Art (1945-contemporary) > Expressionism Erich Heckel - Biography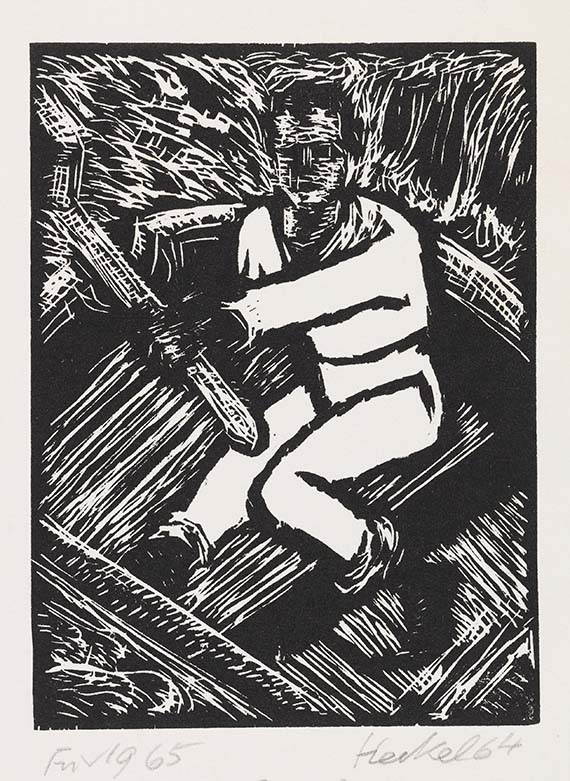 ---
Steuermann. 1964.
Woodcut.
Ebner/Gabelmann 1052 H I (of II). Dube H 451. Signed, dated and inscribed "Für 1965 herzliche Wünsche". One of 37 copies from the early printing state before the date "65" was added to the printing block in lower right. On wove paper. 17.6 x 13 cm (6.9 x 5.1 in). Sheet: 22,2 x 15,4 cm (8,7 x 6,1 in).
The wooden printing block is at the Altonaer Museum, Hamburg, and is inscribed "Der Steuermann 1964, 100 Drucke mit 65 - dav. 12 kol. / 26+12 (=37) Dr. ohne / dav. 2 kolor." on the reverse.
As of 1930 Erich Heckel sent his so-called annual sheets to a circle of friends, collectors and patrons as New Year greetings. Until 1967 he made a total of 37 annual sheets as woodcuts. The present work is the 34th annual sheet. [JS].
• Other copies are in the Erich Heckel Estate and the Folkwang Museum, Essen.

PROVENANCE: Hermann Gerlinger Collection, Würzburg (with the collector's stamp, Lugt 6032).

EXHIBITION: Buchheim Museum, Bernried (permanent loan from the Hermann Gerlinger Collection, 2017-2022).
Erich Heckel. Einfühlung und Ausdruck, published by Daniel J. Schreiber, ex. cat. Buchheim Museum, Bernried, October 31, 2020 - March 7, 2021, p. 404 (with illu.).

LITERATURE: Hermann Gerlinger, Katja Schneider (eds.), Die Maler der Brücke. Inventory catalog Hermann Gerlinger Collection, Halle (Saale) 2005, p. 273, SHG no. 624 (with illu.).

In good condition. Corners minimally crimped in places.
For information concerning the condition, please view the high resolution image / backside image.