Art (1945-contemporary) > Expressionism Erich Heckel - Biography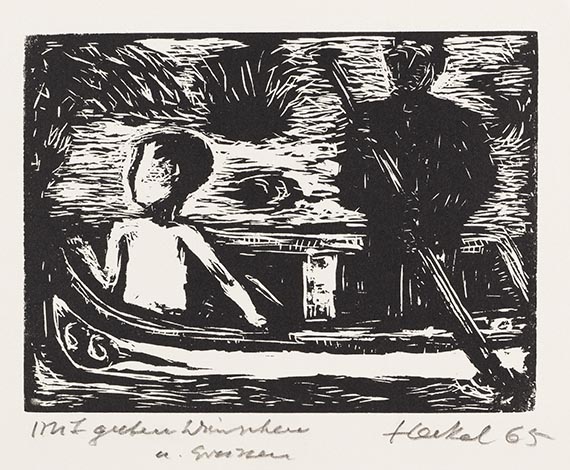 ---
Kahnfahrt (Im Boot). 1965.
Woodcut.
Ebner/Gabelmann 1060 H. Dube H 455. Signed, dated and inscribed "Mit guten Wünschen u. Grüssen". Printing block inscribbed with the year "66". One of 135 copies. 13.2 x 17.8 cm (5.1 x 7 in). Sheet: 17,3 x 25,5 cm (6,8 x 10 in).
Annual sheet for 1966. Printed by printshop Rüdiger, St. Gallen. The printing block is at the Altonaer Museum, Hamburg.
In 1930, Heckel started the tradition of sending a New Year greeting to friends and collectors (except for 1941). [JS].
• One of Heckel's spontaneusly cut annual sheets, inscribed with a persona dedicaation, he sent them to friends and collectors as New Year greetings.
• In this one Heckel uses the image of a boy and a man in a boat as an allegory of the turn of the year.

PROVENANCE: Hermann Gerlinger Collection, Würzburg (with the collector's stamp on the reverse, Lugt 6032).

LITERATURE: Hermann Gerlinger, Katja Schneider (eds.), Die Maler der Brücke. Inventory catalog Hermann Gerlinger Collection, Halle (Saale) 2005, p. 274, SHG no. 628 (with illu.).

In good condition. Corners with small kinks, upper right with a more obvious diagonal kink and a small split in the right edge.
For information concerning the condition, please view the high resolution image / backside image.