Art (1900-1945) > Expressionism Erich Heckel - Biography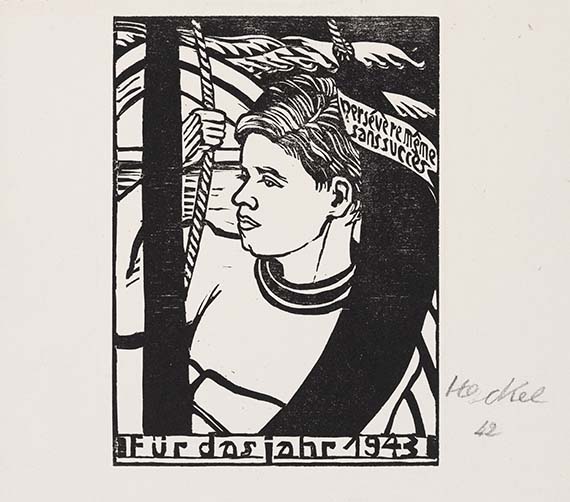 ---
Seefahrer (12. Jahresblatt). 1942.
Woodcut.
Ebner/Gabelmann 867 H. Dube H 373. Signed and dated. Inscribed "persévère même sans succés / Für das jahr 1943" in the printing block. On wove paper. 16.5 x 11.9 cm (6.4 x 4.6 in). Sheet: 19 x 22,5 cm (7,5 x 9 x 8,8 in).
As of 1930 Erich Heckel sent his so-called annual sheets to a circle of friends, collectors and patrons as New Year greetings. The motifs often picked up current events and topics the artist was interested in. "In consideration of their small number and their striking motifs, it is little surprising that the annual sheets later became popular collector's items." (Quoted from: H. Geissler, Die Jahresblätter, Hemmenhofen 2011, p. 45)
Between 1935 and 1945, the annual sheets were the only graphic works the artist made at all. All small-sized woodcuts were hand-printed.

PROVENANCE: Hermann Gerlinger Collection, Würzburg (with the collector's stamp, Lugt 6032).

EXHIBITION: Schleswig-Holsteinisches Landesmuseum, Schloss Gottorf, Schleswig (permanent loan from the Hermann Gerlinger Collection, 1995-2001).
Kunstmuseum Moritzburg, Halle an der Saale (permanent loan from the Hermann Gerlinger Collection, 2001-2017).
Buchheim Museum, Bernried (permanent loan from the Hermann Gerlinger Collection, 2017-2022).

LITERATURE: Heinz Spielmann (ed.), Die Maler der Brücke. Sammlung Hermann Gerlinger, Stuttgart 1995, p. 336, SHG no. 531 (with illu., p. 334).
Hermann Gerlinger, Katja Schneider (eds.), Die Maler der Brücke. Inventory catalog Hermann Gerlinger Collection, Halle (Saale) 2005, p. 248, SHG no. 555 (with illu.).
Heiner Geissler, Die Jahresblätter, in: R. Ebner/A. Gabelmann, Erich Heckel Werkverzeichnis der Druckgraphik, Texte Materialien Bildindex, Hemmenhofen 2021, vol. III, p. 50 (illu. of a different copy).

In very good condition. Left and right of the image with a skillfully smoothed creasemark, presumably owing to the fact that E.Heckel had sent the sheet by mail.
For information concerning the condition, please view the high resolution image / backside image.