Art (1945-contemporary) > Expressionism Erich Heckel - Biography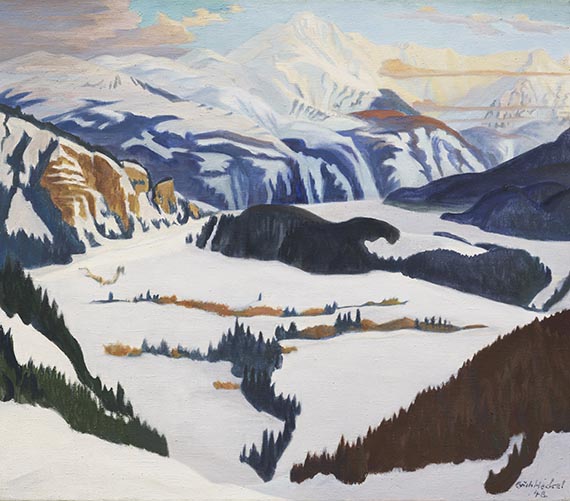 ---
Winterlandschaft. 1948.
Tempera on canvas.
Lower right signed and dated. Signed, dated and titled on the reverse. 83 x 96 cm (32.6 x 37.7 in). [JS].

• One of Erich Heckel's rare snow-covered winter landscapes.
• This is Heckel's first winter landscape 20 years after he had painted "Erzgebirgslandschaft im wWinter" (1928, Hüneke 1928-5).
• In 1948, Heckel went to Switzerland, where he also made the watercolor "Berge im Winter" (SHG 573) showing the same motif.
• Heckel painted the Grisons mountains: View from Fidaz, a small town near Films, to the south over the Hinterrheingraben to Kirchalphorn and Wenglispitz.
• Heckel's handling of the gently modulated black-and-white contrast from which he develops the composition's spatial depth is masterful.
• The sunlight on the mountain in the background in combination with the partly ominous and partly light and airy cloud formations, makes for a wonderful atmosphere
• In 1951, Heckel painted another winter landscape, "Gebirge im Schnee" (Hüneke 1951-1), which today is part of collection of the Kunsthalle Karlsruhe.

PROVENANCE: Erich Heckel Estate, Hemmenhofen.
Hermann Gerlinger Collection, Würzburg (acquired from the above in 1986, with the collector's stamp on the reverse, Lugt 6032).

EXHIBITION: Secession Darmstadt, Mathildenhöhe, Darmstadt July 25 - September 1, 1948, no. 77.
Badische Sezession, VIII. Ausstellung, Kunsthalle Baden-Baden July 15 - September 30, 1951 / Haus der Kunst, Munich October 25 - December 23, 1951, no. 89.
Erich Heckel. Pfälzische Landesgewerbeanstalt, Kaiserslautern, July 27 - August 25, 1951, no. 10.
Erich Heckel, Galerie Wilhelm Großhennig, Düsseldorf February 8 - March 13, 1971, p. 39.
Kunst der 1950er Jahre in Baden-Württemberg, Prinz-Max-Palais, Karlsruhe et al, 1982/83, p. 66.
Erich Heckel, Kunstverein Brunswick, AUgust 9 - October 17, 1985 (not in cat.).
Schleswig-Holsteinisches Landesmuseum, Schloss Gottorf, Schleswig (permanent loan from the Hermann Gerlinger Collection, 1995-2001).
Kunstmuseum Moritzburg, Halle an der Saale (permanent loan from the Hermann Gerlinger Collection, 2001-2017).
Buchheim Museum, Bernried (permanent loan from the Hermann Gerlinger Collection, 2017-2022).
Erich Heckel. Einfühlung und Ausdruck, Buchheim Museum, Bernried, October 31, 2020 – March 7, 2021, p. 364 (with illu).

LITERATURE: Andreas Hüneke, Erich Heckel. Werkverzeichnis der Gemälde, Wandbilder und Skulpturen, vol. II (1919-1964), Munich 2017, p. 304. catalogue raisonné no. 1948-5 (with illu.).
Paul Vogt, Erich Heckel, Recklinghausen 1965, catalogue raisonné no. 1948-9 (with black-and-whiute illu.).
Heinz Spielmann (ed.), Die Maler der Brücke. Sammlung Hermann Gerlinger, Stuttgart 1995, p. 341, SHG no. 548 (with illu.).
Hermann Gerlinger, Katja Schneider (eds.), Die Maler der Brücke. Inventory catalog Hermann Gerlinger Collection, Halle (Saale) 2005, p. 254, SHG no. 574 (with illu.)
Katja Schneider (ed.), Moderne und Gegenwart. Das Kunstmuseum in Halle, Munich 2008, p. 128.

In good condition. In left of lower edge with very few tiny retouched spots and in the right margin of the mountain's black part with a small retocuhed rubbing. Slightly rubbed, predominantly in edges.
The condition report was compiled in daylight with the help of an ultraviolet light and to the best of knowledge.
For information concerning the condition, please view the high resolution image / backside image.