Art (1945-contemporary) > Expressionism Karl Schmidt-Rottluff - Biography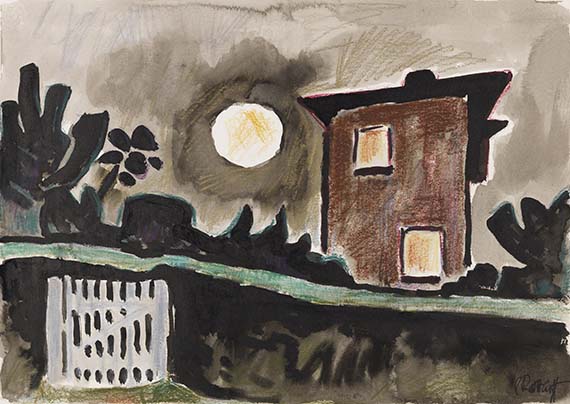 ---
Haus im Mondschein. 1956.
Watercolor, color pens and India ink.
Signed in lower right. On light Schoellershammer cardboard (with the blindstamp). 44 x 62.2 cm (17.3 x 24.4 in). [JS].

• Marvelous document of Schmidt-Rottluff's graphic mastery: He reduced the landscape impression to color gradients and forms as well as a high-contrast orchestration of light and shade.
• Uncompromising flatness and clarity make for a landscape impression of a fascinating modernity.
• The painting "Mondaufgang" with the same motif and also from 1956, is in the collection of the Nationalgalerie Berlin.
• Another watercolor variant of this remarkable motif is in possession of the Folkwang Museum, Essen.

PROVENANCE: Hermann Gerlinger Collection, Würzburg (with the collector's stamp on the reverse, Lugt 6032).

EXHIBITION: Schleswig-Holsteinisches Landesmuseum, Schloss Gottdorf, Schleswig (permanent loan from the Hermann Gerlinger Collection, 1995-2001).
Kunstmuseum Moritzburg, Halle an der Saale (permanent loan from the Hermann Gerlinger Collection, 2001-2017).
Buchheim Museum, Bernried (permanent loan from the Hermann Gerlinger Collection, 2017-2022).

LITERATURE: Gunther Thiem and Armin Zweite (eds.), Karl Schmidt-Rottluff Retrospektive, ex. cat. Kunsthalle Bremen, July 16 - September 10, 1989; Städtische Galerie im Lenbachhaus, Munich, September 27 - December 3, 1989, Munich 1989, p. 287, cat. no. 333 (with black-and-white illu.).
Heinz Spielmann (ed.), Die Maler der Brücke. Sammlung Hermann Gerlinger, Stuttgart 1995, p. 426, SHG no. 772 (with illu.).
Hermann Gerlinger, Katja Schneider (eds.), Die Maler der Brücke. Inventory catalog Hermann Gerlinger Collection, Halle (Saale) 2005, p. 129, SHG no. 294 (with illu.).
Christiane Remm, Karl Schmidt-Rottluff. Aquarelle, ed. by Magdalena M. Moeller, Brücke-Museum, Berlin 2011, p. 75.

In very good condition. With just a small pressure mark in left below the moon.
For information concerning the condition, please view the high resolution image / backside image.