Art (1900-1945) > Expressionism Karl Schmidt-Rottluff - Biography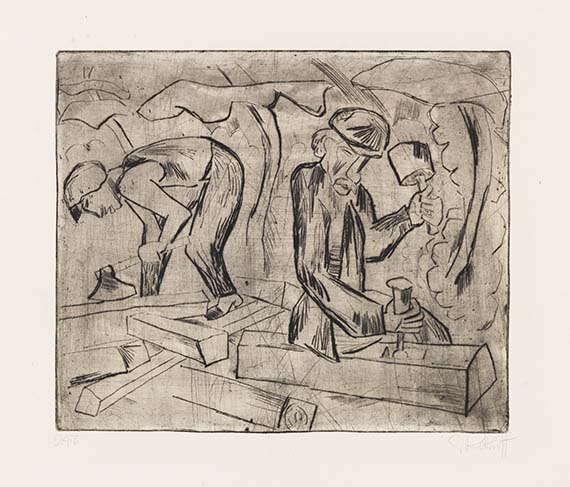 ---
Zimmerleute. 1924.
Drypoint with surface tone.
Rathenau 60. Signed and inscribed with the work number "2416". On creme wove paper. 33.2 x 39.5 cm (13 x 15.5 in). Sheet: 49 x 60,9 cm (19,3 x 24 in).
[JS].
• Rich black impression with a harmonious surface tone that illustrates the etching's laborious creation on basis of the printed scratches and the plate's unevenness.
• In this work the experienced print artist Schmidt-Rottluff succeeded in transferring the woodcut's rich contrasts to the seldomly used etching technique.
• In "Zimmerleute" the artist stages the woods manual treatmanet as a motif, an activity of key significance for Schmidt-Rottluff's graphic and sculptural creation.
• Rare. This is the first time that a copy of this large etching is offered on the international auction market (source: artprice.com).

PROVENANCE: Hermann Gerlinger Collection, Würzburg (with the collector's stamp on the reverse, Lugt 6032).

EXHIBITION: Schleswig-Holsteinisches Landesmuseum, Schloss Gottdorf, Schleswig (permanent loan from the Hermann Gerlinger Collection, 1995-2001).
Kunstmuseum Moritzburg, Halle an der Saale (permanent loan from the Hermann Gerlinger Collection, 2001-2017).
Buchheim Museum, Bernried (permanent loan from the Hermann Gerlinger Collection, 2017-2022).

LITERATURE: Heinz Spielmann (ed.), Die Maler der Brücke. Sammlung Hermann Gerlinger, Stuttgart 1995, p. 405, SHG no. 713 (with illu.).
Hermann Gerlinger, Katja Schneider (eds.), Die Maler der Brücke. Inventory catalog Hermann Gerlinger Collection, Halle (Saale) 2005, p. 105, SHG no. 227.
Christiane Remm, in: Starke Schnitte. Karl Schmidt-Rottluff, Brücke-Museum Berlin, November 30, 2013 until February 23, 2014, p. 8.

In very good condition. Minimally sunned and with a few small brownish spots in the broad margin and with faint handling marks, kinks and rubbed spots. Verso of upper corners with two skinned spots, recto minimally visible.
For information concerning the condition, please view the high resolution image / backside image.