Art (1900-1945) > Expressionism Erich Heckel - Biography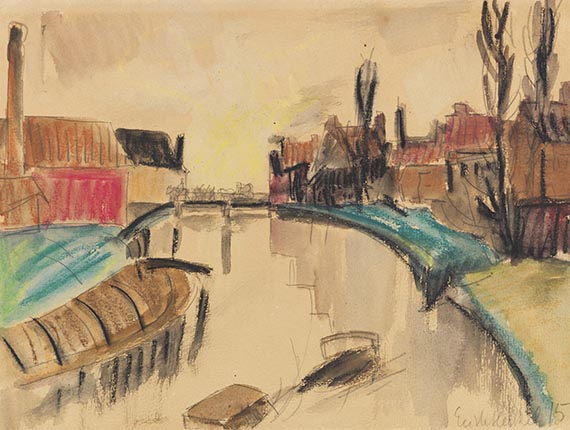 ---
Kanal in Flandern. 1915.
Watercolor over pencil.
Bottom right signed and dated. On machine-made laid paper. 25 x 33.5 cm (9.8 x 13.1 in), size of sheet. [EH].

• Remarkable coloring.
• The woodcut "Krummer Kanal", 1915 (Ebner/Gabelmann 685 H, Dube H 288) shows a similar motif.
• From the group of the highly symbolic Flanders landscapes.
• Founding member of the expressionist artist group "Brücke" (1905–1913).
• Erich Heckel is a main representative of German Expressionism.

We are grateful to Mrs Renate Ebner, Erich Heckel Estate, Hemmenhofen on Lake Constance, for her kind support in cataloging this lot.

PROVENANCE: Private collection Lower Saxony.


For information concerning the condition, please view the high resolution image / backside image.