Art (1900-1945) > Expressionism Karl Schmidt-Rottluff - Biography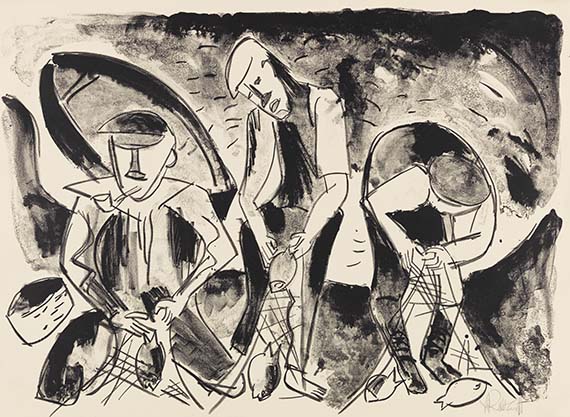 ---
Nach dem Fang. 1923.
Lithograph.
Shapire L 102. Söhn 71302-4. Signed. From an edition of 80 copies. On smooth paper. 42.5 x 58.5 cm (16.7 x 23 in). Sheet: 44 x 60 cm (17,3 x 23,6 in).
Sheet 4 from the second Kestner portfolio "Fischer". Printed by Rob. Leunis & Chapman G.m.b.H, Hanover. Published by Eckart von Sydow in Verlag Ludwig Ey, Hanover 1923. [AR].
• One of six lithographs from the 2nd Kestner portfolio "Fischer".
• The life of fishermen is a recurring theme in his work.
• Expression of a strong fascination for rural life.

PROVENANCE: Private collection Southern Germany.

In good condition. All in all slightly browned, with very few slight handling marks.
For information concerning the condition, please view the high resolution image / backside image.