Art (1900-1945) > Figurative Painting (1900-30s ) Lyonel Feininger - Biography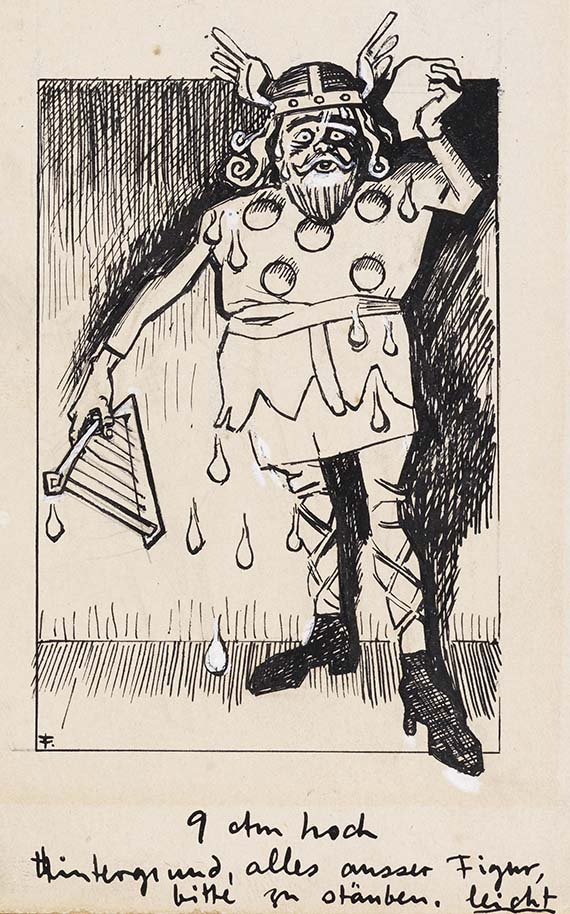 ---
Singender Germane mit Leier. 1904.
Pen and India ink drawing on board, with isolated white-heightenings.
Monogrammed in bottom left of image. Bottom center inscribed with instructions for the later reproduction "9 cm hoch / Hintergrund, alles ausser Figur, bitte zu stäuben, leicht". 16.7 x 9 cm (6.5 x 3.5 in), size of sheet. [CH].

• Since 1958 part of the same private collection and offered on the international auction market for the first time since.
• Published in "Ulk" (weekly magazine of the Berliner Tageblatt).
• Around 1900 Feininger's drawings were also published in the "Berliner Illustrierte Zeitung", "Der liebe Augustin", "Das Narrenschiff", "Lachendes Jahrhundert", in "Humoristische Blätter" and "Lustige Blätter" as well as in "Harpers Young People" and the "Chicago Sunday Tribune".

PROVENANCE: Stuttgarter Kunstkabinett, Roman Norman Ketterer, Stuttgart.
Private collection (acquired from the above in 1958, 31st auction, May 20, 1958).
Ever since family-owned.

LITERATURE: Stuttgarter Kunstkabinett, Roman Norbert Ketterer, Stuttgart, 31st auction, Modern Art, May 20, 1958, lot 280 (with illu. on p. 31).
"Greatness can't be achieved through making things bigger alone! So naive! but through contrasts between big and small on one sheet. One can show something humongous on a stamp while frittering on meters of canvas."
Lyonel Feininger to Julia Berg, February 9, 1906.

Charming small pen draing, in good condition. Minimally discolored. Tiny isolated brownish spots and very faint traces of rubbing. Corners with tiny pinholes, presumably from making. Upper edge of board slightly irregular. Verso with old mounting remains, minimally ovrlapping to recto.
For information concerning the condition, please view the high resolution image / backside image.